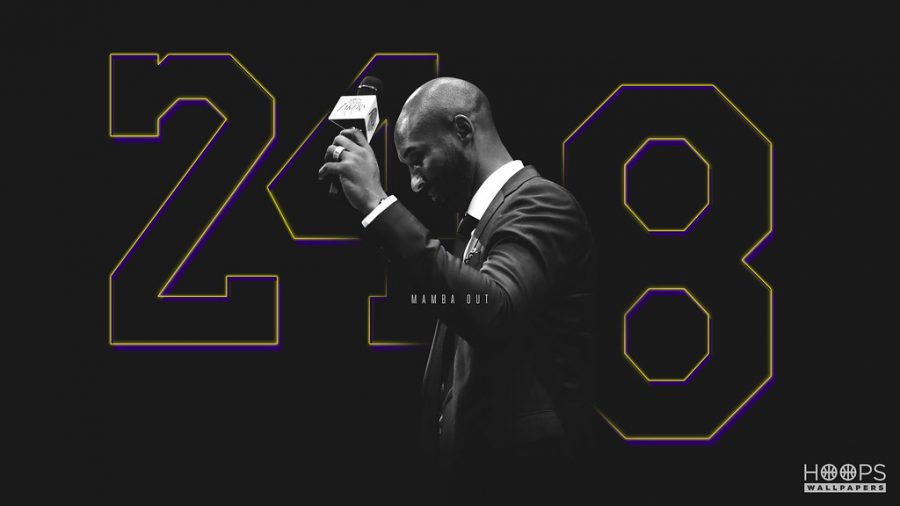 On January 26, 2020, Kobe Bean "Black Mamba" Bryant and his daughter Gianna "Gigi" Bryant, were killed due to a crash in a helicopter alongside seven other victims. Kobe was 41 years old and retired from basketball only 4 years ago, and Gigi was 14, and just made her first SportsCenter highlight. This unfortunate news took the world and filled it with shock. Everyone was saddened with the news and many took to the streets to express their pain and their extreme love for Kobe and Gigi. With this tough time upon us, we should look back on his amazing life.
On August 23rd, 1978, Kobe Bean Bryant was born. His father Joe Bryant was a professional NBA basketball player for the Philadelphia 76ers, and his mom was Pam Bryant was a socialite. He attended Lower Merion High School in Philadelphia. He went there after spending a few years in Australia and Italy, with his dad. He built up his name in High School by averaging 31 points, 10 rebounds, and 5 assists. His amazing stat line earned him scholarships to Villanova, Michigan University, Duke, and the top-ranked school, the University of North Carolina. However, he didn't attend any of those schools and decided to enter his name in the NBA Draft. He was drafted 13th overall in the 1996 NBA Draft by the Charlotte Hornets but then traded right after being picked, to the Los Angeles Lakers. The rest of his career is history, but could simply be put as, incredible. His career accolades included 5 NBA Championships, 15 All-Star Game appearances, Two Finals MVPs, and one regular-season MVP. Even with these great achievements, his greatest accomplishment is having 4 amazing children: Gianna, Bianka, Natalia, and Capri Bryant. He also ended his career with an amazing 60-point performance against the Utah Jazz in 2016.
After Kobe's life, he lived a very subtle life. He enrolled his daughter Gianna into a basketball team, where he soon coached. Gianna Bryant played amazing while she was there. She was the leading scorer on her team and won many AAU championships. Kobe soon created a new basketball academy titled the Mamba Sports Academy. Many young athletes got to train there, improving their game. However, not everything great lasts, because on January 26, 2020, Kobe Bryant, Gianna Bryant, and 7 others boarded a helicopter that was headed to the Mamba Sports Academy, when their helicopter crashed in Calabasas, California. The world was shocked.
Many would say that Kobe affected their life in some way. This can be drawn from his hard work ethic, tough-minded personality, and greatness to everything that he does. He was truly an inspiration to everyone. After the news hit, thousands of people gathered outside of the Staples Center in downtown Los Angeles and showed their distress there. Fans made an area to give a tribute to Kobe and Gigi by placing down flowers, pictures, candles, and a trash can where many people could shoot paper balls while saying the classic phrase, "Kobe". Recently the NBA also created a new way to play the fan-favorite event, the NBA All-Star Game. The game would only be timed for the first 3 quarters, and the final quarter will be played out like the following: The team with the most points by the end of the 3rd quarter will have 24 points (in honor of Kobe's number) added to their total score. Whatever amount that comes out to be will be the final goal for both teams to get. The final quarter won't be timed, it only ends when either team gets the fixed score. For example, if the score is 100-95, either teams' goal to win would be 124. This means Kobe had a great impact on people and even the game itself.
The world will never see another Kobe Bryant or Gianna Bryant, ever. They were incredible athletes with an amazing strive for greatness. The world will mourn this loss for a long time and it's for a good reason. At the end of the day, we'll have to move on from this tragic occurrence. As we say our final goodbyes to Kobe, Gianna, and the other 7 passengers who passed, take time out of your day to love someone. We live in a rough world where people don't live forever. It's unfortunate, but it's reality. Life is never guaranteed for a second. With all this said, find someone you have had struggles with and hug them and rebuild your bond. Love them, because there will never be a replacement for that person. Rest in peace Kobe Bean Bryant, Gianna Maria-Onore Bryant, John Altobelli, Keri Altobelli, Alyssa Altobelli, Christina Mauser, Sarah Chester, Payton Chester, and Ara Zobayan. Your legacy will live forever.