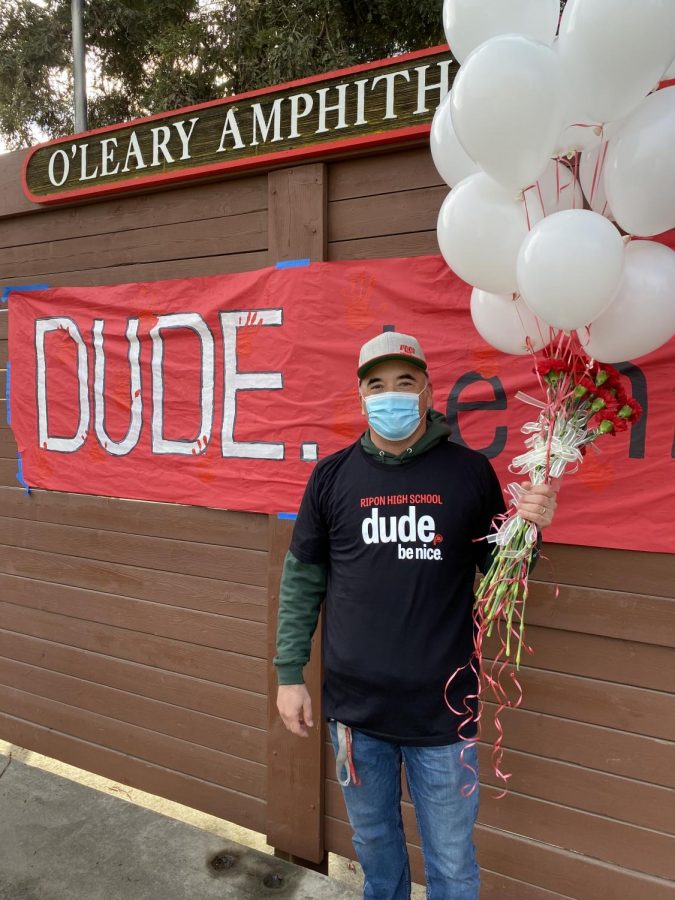 You may have heard about Dude Be Nice, seen posters, or seen your friends wearing shirts that say it, but what actually is it?
Dude Be Nice is an organization that the leadership teacher and activities director first introduced to Ripon High that promotes being kind to others by recognizing a staff member at Ripon High each year. In the past, Ripon High would have a rally and the whole school would work together to celebrate the nominated "dude". This year, due to Covid, yearbook, leadership, and journalism came together to surprise the nominee, Mr. Perez, at the amphitheater with all of the staff watching. 
"Dude Be Nice is an event created to honor people not normally in the spotlight, who are in a way, everyday heroes," Avery Redula, a junior at RHS said.
A lot of the time students forget to show appreciation and gratitude for their educators, the people that are always there for them for anything. Dude Be Nice is a great way to put staff members into the spotlight to show that we really care. This year, we showed Mr. Perez just how much his friends, family, and especially students how much they care. 
"Mr. Perez has dedicated his career to RHS. He has a fun-loving, silly, amazing storytelling personality and with that, he makes a huge impact on his students in the classroom." Mrs. Mortensen said. 
Mr. Perez is known for all of his stories and jokes that he is making in class. He is always there for his students if they need help. This year we celebrated him with gifts like personal letters from his students, balloons, and even a football. 
"I really enjoyed it when the students gave me their cards.  I  enjoyed reading their messages. It was a really great day to be Mr. Perez." Mr. Perez said.