Fashion Week Returns
Ever since COVID-19 hit, fashion week was online but is now returning in person as enchanting as ever. Tons of celebrity front row sightings, beautiful street style, and Spring 2021 trends we will want to try, ASAP.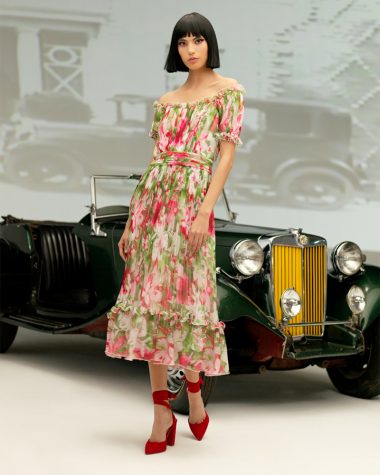 18 months have passed and fashion industry pros, influencers, and celebrities from all over the world have come together to celebrate and explore the Spring/Summer 2022 collections. With this, we will see Fashion Week's street style that we all know and love. Tadashi Shoji is one of the many fashion designers that got to show at New York Fashion Week (NYFW) on Wednesday, September 8. 
His theme for this show was inspired by the Spanish Flu, he said "People embraced a newfound vitality."Inspired by 100-year cycles we see Throughout the show we see an array of beautiful midi dresses, gowns, and jumpsuits of the roaring twenties. He used vibrant colored flowers juxtaposed with lace creating a much more casual approach with tropical leafy motifs embroidered throughout the collection. "It's cute and you should wear it," said Grace Sesser, freshmen.
"One hundred years ago, the Spanish Flu receded and the Roaring Twenties made its spirited debut. Here we are 100 years later. While we all do our best to protect ourselves and others from COVID-19, my hope for this season is a return to parties," said Tadashi Shoji. 
Next, we have LaQuan Smith, and he just rented out the empire state building, yes you read that right. He will get the keys to the world's most famous building, named "the most dramatic NYFW venue" by VOGUE. On this show, we will see Kylie Jenner making an appearance. While on the runway two walked in bright white with large matching poodles. Others carried mini Champagne bottles. One slightly cold-looking model showed off a bedazzled blue bikini. Smith allowed her a white open robe.
Last but not least is the designer RVNG. Throughout the whole show, we are seeing tons of colorful and vibrant clothing. We see a lime green lace dress, and then a dress with vibrant colors along with tons of glitz and glamour.