Senior Night Rivalry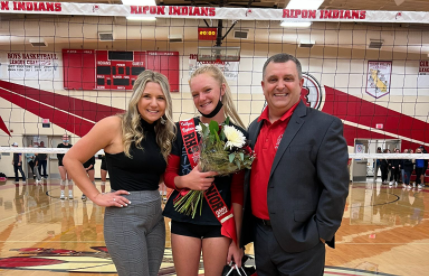 Ripon's volleyball program has four seniors on the team this season: Caitlynn Campbell, Ronni McIntosh, Sierra Barrios, and Bella Chapin. In their home game against Escalon on Oct. 12, these seniors were celebrated for the amazing season they've had and congratulated on nearing the end of their high school career. Despite Ripon losing the game in three sets, it was a hard, back-and-forth battle until the end.
Before the game started, each senior was spoken about by another member of the team while they walked with their loved ones across the court. Once there, they were greeted by the head coach and given a multitude of gifts and hugs from the team, with pictures being taken throughout the entire thing.
"I expected the whole event to be a little more emotional in a tearing-up kind of way, but I couldn't have imagined it to be any better than it was," said Caitlynn Campbell, senior. "I felt really loved and appreciated by my teammates, friends, and family."
Instead of wearing their usual warm up shirts, the seniors continued the tradition of wearing a shirt from their elementary school, with Campbell, Barrios, and Chapin coming from Colony Oak and McIntosh coming from Weston. As well as that, the four got to play the entire time in the first set, allowing the student section to scream and cheer them on.
"The girls really worked hard to get to the level they're playing at now," said Chuck Sterni, head varsity coach. "I think it's just a matter of finding the right rhythm and staying in that rhythm."
"
I'm proud of every single one of us."
— Kylee Fullmer, sophomore
The first set was neck-and-neck the entire way through, with a final score of 32-30 Escalon. It was anyone's game, and both student sections showed that with the outstanding amount of energy they brought. From there, the energy on the court itself continued to decrease. The second set ended at 25-22 Escalon, and the third went to Escalon as well, with a score of 25-17.