Renaissance Signups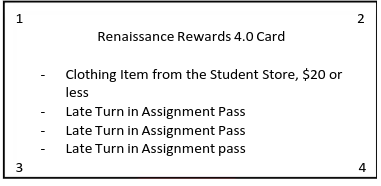 Renaissance signups are occurring this week starting today the 29th of March through Friday, the 1st of April at Ripon High. Renaissance signups occur every quarter to reward students who succeed academically or to reward those who have improved over the course of a quarter to the following one. The link was sent to every individual student who is interested on Tuesday the 29th of March. 
"I think renaissance is a good way to encourage our student body to do better academically. it is a short term goal to strive for and a reward to look forward to," said junior, Brianna Alvarez. 
There are three rewards available if students choose to participate in renaissance. This quarter the awards available are the 4.0 card, the 3.0 card, and the .5 GPA improvement card. As a reward for receiving a 4.0 at the end of the quarter students receive 3 "turn in late" passes, 1 final pass, and have the chance to receive a graduation ticket valid for that same school year. The 3.0 card rewards the student with an Ace Ticket and four "turn in late" passes. In addition all students who participate will receive the Academic R and the star pins to attach to your letterman jacket. 
"
They should be more open to filling out the google form because if they are getting a letter-man jacket then they can get their Academic R and star pins to go on it. As well as the fact that Renaissance is free and there is really no harm in signing up."
— Gabbi Illardi
Renaissance is not only a great way to be rewarded for academic achievements but it also encourages students to try to do their best in school. Renaissance is free of charge and is a quarterly occurrence so students have the opportunity of being rewarded multiple times throughout the school year and their four years at RHS. With the simple completion of a google form, one has the opportunity to be rewarded for their hard work.