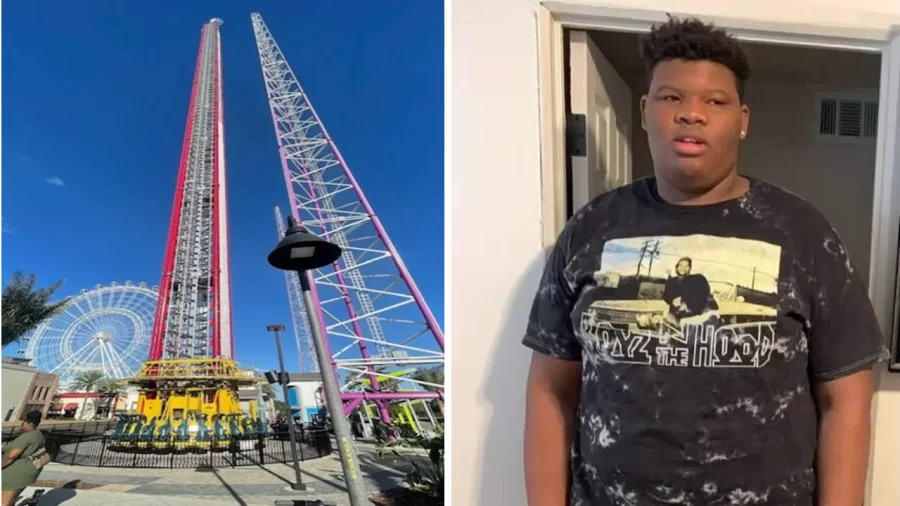 A 14 year old teenager, Trye Sampson died on Thursday, March 24, after he fell from the Orlando Free Fall attraction at Florida's ICON Park. Orange County Sheriff John Mina said Friday that a 14 year old, Tyre Sampson from Missouri was visiting Florida and had gone to ICON Park. Deputies responded to the scene around 11pm on Thursday after the teen fell from Orlando Free Fall. According to the park, it is the "world's tallest free-standing drop tower". He had fallen off a 430 foot-tall ride. Nobody on the ride would ever imagine this happening to anybody, since technology till this day is extremely strong and powerful.
It is not yet known how Trye fell, yet he was the only injured rider. Deputies are still investigating if Tyre's death was an accident or a "terrible tragedy". The Florida Department of Agriculture and Consumer Services will investigate any possible safety issues. Yet according to an operating manual for the FreeFall ride, the weight limit for the ride was about 287 pounds. Unfortunately, Sampson's father said he weighed about 325 pounds. Due to this, the employee in charge on the ride needed enough and good training to check that the bracket fit properly, looks like there was a lack of training. "A straight-up negligence case."
"I believe his death was really sad, mostly because he was so young. I dont think it was on purpose because many people make mistakes. I heard that the ride won't function without their "light" being on. It's probably the actual ride that malfunctioned." Luz Ceja, junior. 
Nobody can imagine the pain of the family members and Trye's friends who went on the same ride with him and saw his tragic death in front of their eyes. All over social media there has been the death video going around and could clearly see that he was not fully secured on the ride. Trye's father stated on television that his son felt something wrong was going to happen, Trye told his friends that if he didn't make it to tell his parents "I love them". A good amount of people on "TikTok " have been posting videos on how they won't be attending any more carnival amusement park rides. 
"My thoughts on this teenager falling is very sad knowing that was his last final day. He just wanted to have some fun and enjoy his spring break with a couple of rides. His last seconds probably felt really quick; he didn't have thoughts to begin with since everything happened so fast." Karina Covarrubias, junior.