Main Street Farmers Market Heats Up
Snow cones, smoothies, and smiling, sweaty faces marked this Thursday's Main Street Farmer's Market, as a dozen local farmers offered their harvests directly to Riponites in the 104-degree late-summer heat. Because of the weather, adults strolled the market sipping fruit smoothies from Aguas Frescas and the snow cone line was always filled with kids. Even the vendors pressed water bottles to their heat-reddened foreheads.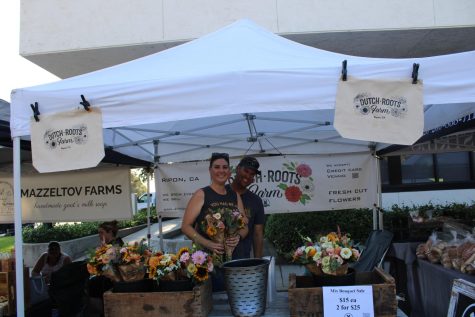 The Farmers Market had a variety of shops such as pastry tents and fruit stands, as well as a flower stand, an art table, and a soap tent. Dutch Roots Farm put up the flower tent that was run by Apriyl Taggart. They had a summer heat special in which all the bouquets went down in price. When usually a single bundle is 20 dollars, one mixed bouquet cost 15 dollars, and two mixed bouquets cost 25 dollars. Rosa's Bakery, which is based in Escalon, hosted a stand where they sold pastries such as chocolate chip croissants and cinnamon rolls for 4-5 dollars.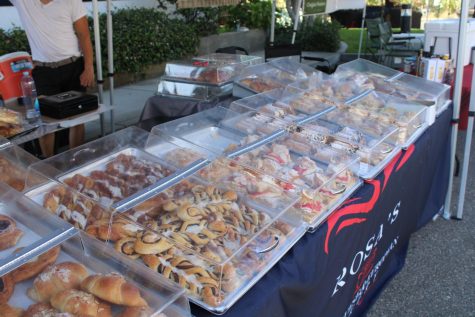 Families headed all tents, some with kids and some from out of Ripon, but not all the funds went to the people themselves. Any funds made by the vendors go to Garden Joy to keep it up and running. The money allows volunteers to purchase and plant crops year-round. During the summer season, Garden Joy harvests potatoes, tomatoes, figs, basil, eggplant, peppers, watermelon, and more. All the food harvested is donated to a local children's crisis center or food pantries. Last year Garden Joy donated 3,000 pounds of food to local organizations.
The head of the Garden Joy team, Sarah Darpinian, stated, "We started the garden to help educate children. We do field trips and Saturday classes to get the kids involved in gardening and food science. And then we donate all of our food, so we just started it to make a difference in the community."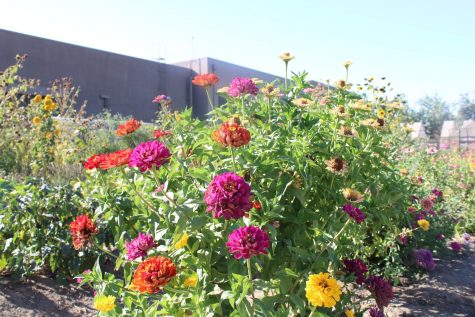 Local schools come monthly to take classes on the science of gardening and how to harvest different crops, while high school students can sign up to work at Garden Joy for volunteering hours. 
Garden Joy will host four more farmers markets, every Thursday in September, starting at 5:30 p.m.