Izzy and Isaiah's Big McWin
Hang on for a minute...we're trying to find some more stories you might like.
Video by McDonald's
January was a month full of spontaneous creativity and victories showcased through events like the talent show, spirit days, and sports. But putting aside the obvious "wins" that students at Ripon High got this month, there was another well- earned victory that deserves a story.
Isaiah Thompson and Izzy Sweet submitted a video in the competition for the McDonald's "McRib Competition", for the chance to eat the season's last McRib.
"It was the night it was due when we made the video," says senior Isaiah Thompson, who starred in Sweet's video. "We wrote a song and made a video to submit," Thompson explains, "it took us like four hours."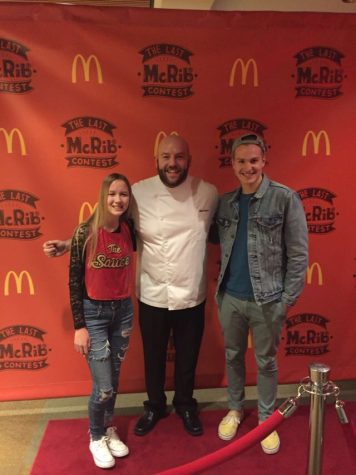 Sweet and Thompson smile for a picture with McDonald's head chef, Michael Haracz at the headquarters in Chicago.
The two were notified of their win soon after and it was arranged for Sweet and Thompson, along with both of their mothers, to take a trip to Chicago.
The trip was four days long and this time included time for sightseeing and time for touring the McDonald's headquarters. They left on the 11th of January and returned on the 14th.
The two were taken to the McDonald's headquarters in Chicago to be featured in a video for the last McRib competition winners.
"We met the head chef of McDonald's and he brought us food to eat for the video they were shooting." explains Thompson.
This video involved scenes of Sweet taking bites of this seasons last McRib.
"It was really good," Sweet describes, when asked about how she felt about the eating the last McRib, " but for us, the best part was the entire trip; being able to go to Chicago and be in the McDonald's video. It was all a little crazy, but more than that, it was really cool."
"The experience was very fun, and it's pretty exciting because I feel like it's the start of my career," Sweet laughs, "I'm going to be famous one day."