Preparing to go on the Mat
Hang on for a minute...we're trying to find some more stories you might like.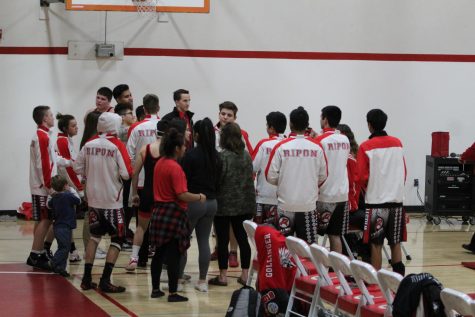 Wrestling is a sport that isn't meant for the faint of heart and requires a lot of training and effort outside of practice.  A lot of dedication is required for this sport and the athletes have to be mentally tough in order to not give up during matches.
The athletes have to work in the off-season to get to where they want to be in the regular season.
"[I] work out with my dad, and train two to three hours a day," sophomore Nathan Valdez said, when asked what he does to prepare for the regular season.
Other wrestlers also work out immensely during the offseason as well.
Seniors Donny Fontillas and Juan Rodriguez talked about how they do things like crossfit and weight-lifting to get stronger.
"We try to get our strength up, and then during wrestling is when we start cutting our weight," Fontillas said.
Keeping weight is a very important part about wrestling.  Wrestlers have to fall under certain weight classes and maintain that for the duration of the season.
"Mostly just watch what you eat," Valdez said.  "Don't eat a lot of carbs.  And then, go on at least two hour runs everyday."
Valdez also talked about the cons of trying to keep weight.
"Yeah, you get stressed out."
Above all of the physical activities wrestlers endure to train themselves, one of the most important things to do is to have a strong mind.  Mental toughness is arguably one of the most vital skills a wrestler can have.
"That's who you are as a person," Rodriguez said.  "There's times when they're [the opponent] just beating you up and you either quit or you just keep going."
The wrestlers are also encouraged by their coaches.
"Our coach tells us all the time to never give up and to do whatever it takes to finish the match," Fontillas said.
Senior night for the wrestlers was on Wednesday, January 31, where the Indians fell short.
Several wrestlers will continue to move on to Masters in the following days to come.