Adopt a Pet, Save Two Lives
Hang on for a minute...we're trying to find some more stories you might like.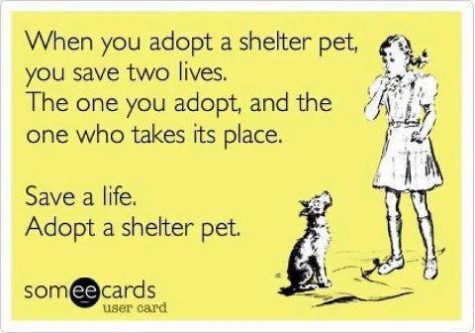 The majority of us own some type of animal such as a dog, cat, small critter, reptile, aquatic animal, the possibilities are honestly endless. I want to thank you for bringing that pet into your life and providing it a home. However, where did you get that pet from? Did you adopt from a shelter or rescue? Or did you buy from a breeder? If you bought your pet from a breeder, I'm going to educate you on how to not make that mistake the next time you're searching to bring an animal into your life.
Our society today is so blinded to the real truth about where to get a pet from. It's estimated that little under four million people buy from breeders, pet stores or mills. Not too high of a number, but now think about it when I tell you that approximately 2.7 million, out of the 7.6 million animals brought into a shelter, are euthanized each year in the United States. Myself who has dedicated seven years into being involved with rescue organizations and fostering, can still not even comprehend these facts. 7.6 million helpless animals with no voice are either dumped off at shelters due to the most heartbreaking excuses such as "not being cute and tiny anymore", their pet had babies, caring for a pet is too expensive, not wanting to deal with health issues, someone is allergic to the pet, it's "too much work", the shelter finds them as a stray, etc. There are endless reasons as to why animals end up at shelters.
Shelters' rules or requirements are that when an animal has arrived to the shelter from an owner surrender, that animal has 48-72 hours to be adopted out before being euthanized. If a shelter finds an animal as a stray or is dumped at a location and taken into the shelter's intake, they have to store that animal for two weeks in case someone claims it as theirs. If no one claims the animal as their own, it's able to be put up for adoption where it will have hours to survive, begging to just be placed in a forever home. The time an animal has in the shelter is far too low because of the number of intakes a shelter receives a day. A post I read from a manager who worked at a shelter with the name of Heaven Mahle said, "If it sneezes, it dies." Shelters will think of any excuse to make their cages empty and to keep the number of animals low under their roof. If those four million people would've adopted from a shelter or rescue, those numbers of animals being killed would go down drastically.
Let me go into depth on what I do personally to try and help this situation. I volunteer my time and home to animals in need of homes. Rescue organizations pull animals from shelters that are getting ready to be put to sleep with little time left. These animals are then placed into foster homes, such as mine, in order to be saved from being killed and on their journey to find their forever home. I'm not telling you that you have to become a part of rescuing or have to start fostering, but adopt from rescues. When adopting from a rescue, you're making room for rescues to go save more animals from the shelters.
Fosters spend hours with their foster pet, preparing them to be placed into a home. Animals that lived in a foster home are especially social due to the foster parent really digging deep into the personality of the animal in order to truly place it into the perfect home. The number of animals I have personally fostered is countless, which is a countless number of animals I have saved from being euthanized. Guess what, you can do that too. I encourage everyone to try fostering or even volunteering some part of their time to helping out an animal rescue group near you.
People say they can't foster because "it will be too hard to give them up and put them up for adoption." Yes, sometimes you create special bonds with certain foster animals, however seeing them go to a good home and seeing the person who's adopting them so incredibly happy to bring them into their lives is what it's all about. We are here to help these animals from staying clear of the shelters and into homes of their own without having the possibility of being euthanized.
Is your pet fixed? This is another question that plays a really big role in how you can help this overpopulated world we are living in. If you spay or neuter your pet, you completely wipe out the possibility of your pet either getting one pregnant or becoming pregnant. When an animal becomes pregnant and has babies, you then need to put your problem on someone else right? (I hope you caught that sarcasm) Most resort to taking their pet's babies to the shelter, dumping them or giving them away. THIS DOESN'T HELP THE SITUATION AT ALL! This only increases the shelter intake population where that little puppy will most likely be euthanized or that person who takes the free pet only continues the chain, leaving their dog into having puppies. It's a chain effect which needs to be stopped. Another reason to adopt from rescues or shelters because 99.9% of the time animals from there already come fixed! Wouldn't you want a pet with all it's shots, microchipped and fixed for a cheaper fee in comparison to a pet who you spend hundreds to thousands of dollars on without any of the medical needs? There are plenty of low-cost spay or neuter clinics near you, so be a responsible pet owner and get your pet fixed.
I can't stress enough as to how important it is to adopt from shelters. There's an endless amount of controversy on whether or not you should adopt or buy your pet(s). Clearly, it's the case that I feel everyone should save a life in compares to buying or receiving a "free" pet. This is such a large topic to cover however I want you to leave with a few things. First of all: be responsible. Get your pet fixed and understand that your cute little puppy will become an adult, which gives you no reason to dump it at a shelter. Secondly: do your research. Search for the right pet without being impulsive. Check your local shelters and rescues instead of buying a pet from a careless breeder or mill. You can find adoptable animals from rescue groups and shelters on sites like Petfinder and Adoptapet . Lastly: be involved. Fostering and volunteering aren't for everyone, however, spreading the word or even sharing a post may help an animal find its home. I hope I have educated some of you and made you truly see how the world around us really is. Spread love towards your pet(s) and be thankful for them everyday. Let's help this insane issue that seems never-ending. End it for good by adopting and not shopping.