Dramatic Search for Drama Club Show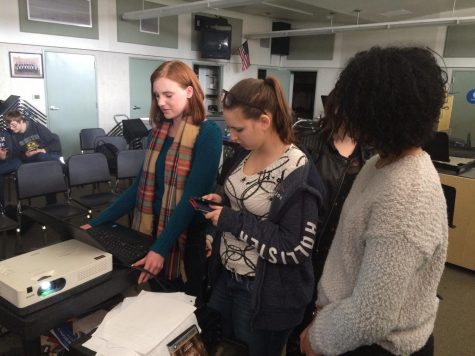 Back in January, the school's Drama Club decided to perform a musical based on Rodgers and Hammerstein's Cinderella with the scheduled dates being April 27-29, but things disastrously never took off.
After the initial auditions, club members waited anxiously for about a month for news about when the scripts would be delivered, but there was never a response.
As one of the members of Drama Club, I asked the showrunner and supervisor, music teacher Geoffrey Felver, numerous times at the start of each day if the scripts ever turned up. Every response was negative, and this had me and everyone else in the club worried.
To make matters worse, more bad news came during a surprise birthday party for another student on February 25th, where Drama Club president Haley Meece was in attendance. She told me that a production company was supposed to send the supervisor scripts, but they never did.
"We were looking at it (the show), we were super excited for it, but we got really confused," Meece later said. "We saw on their website that you had to order the scripts separately, so we were like, 'Okay.'"
Wednesday, February 28th was the day where everyone got a text message regarding Drama Club.
"VERY IMPORTANT MEETING AT LUNCH TODAY!!!" the message read.
The news that was delivered sent everyone on a downward spiral of despair: the play wasn't happening.
"They called us saying that only ninth-grade-and-under students can actually do the play," Meece explained. "Nowhere did it say that we had to have a certain age range and that it was actually a problem with rights for the play."
Furthermore, the club is too low on money to purchase scripts for a musical and its props.
"We're so crunched on time that we would not be able to find another musical fast enough to put on," vice president Alyson Eusebio said. She delivered the news at the meeting after Meece was absent from it.
Now, Drama Club leaders and its members are trying desperately to figure out what play they're going to do, when the show dates are, and whether or not they're going to have a show at all this year.
"Everybody, pretty much, is super bummed about the whole thing just because it was just a problem with the company that they didn't tell us anything to begin with," Meece said.
Several students agreed that keeping the original show dates planned for Cinderella are too stressful for them and pushed the dates back near the middle of May, but that's the same time period where students are studying for their class finals. The senior field trip to Disneyland, scheduled on May 4-5, is another event that intervenes with the possible date change. Nevertheless, Meece says that there will still be a show on the rescheduled dates.
"We're just gonna have to work extra hard, and see where that takes us," Meece said. "Whether it's a musical or not, we're still gonna give it our all and do our best."
One thing's for sure: the process of having this year's show coming together is off to a dramatic start.