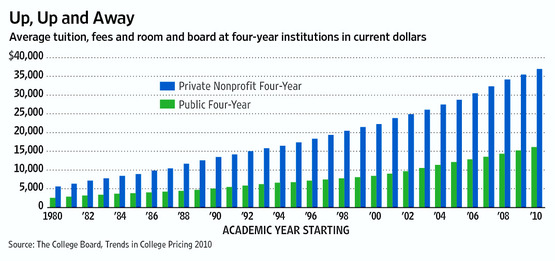 In 2018, it's crazy to think that at a time, college tuition was actually affordable for many teens just by having a job while going to school. Now, it is almost unheard of to be able to pay your college tuition yourself just by having a job in high school or college. So, why did the cost of tuition change so drastically within just the last 20 years?
Students in the 1970's would be able to work for less than 300 hours, or about seven and a half weeks of full-time work at minimum wage to pay for the average in-state tuition at a U.S. public university. Now, students would have to work more than 1,000 hours or 25 weeks. However, as minimum wage rises in the United States, the prices of everything increase as well.
There are several different factors that go into the cost of college tuition. A huge part that plays into the cost of tuition is the employees. On average, 75% of the total costs associated with a college degree are employee wages, benefits, etc. "Higher education is a service industry. It's all about people teaching people. Faculty salaries are expensive, and are particularly expensive in competitive subject areas like STEM, (Science, Technology, Engineering, Math) where for-profit industries compete for the same skills and talent," said Secretary of Education's Commission Robert Dickeson.
Another reason is because of the increase in students enrolling in colleges. From 2000-2010, enrollment at colleges throughout the United States grew to over 37%, which is 21 million students. The more students that enroll, the higher the demand for classes, which means hiring more staff members, therefore making the tuition more expensive. "The rising cost of college can be blamed on basic math. College expenses are on the rise. College incomes are on the decline. Students, unfortunately, are the ones being asked to take up the slack, possibly sacrificing their financial future to do so," Dickeson stated.
The rising cost of tuition is inevitable and will still continue to increase as time passes by and the number of students enrolling grows. The unfortunate part of it all is that without a college degree, it can be difficult to find a job that pays well, but if you have a college degree, you could still be in financial trouble because of the extremely expensive cost of college.