All Out, All Game, All Season The Tennis Season Comes to an End
Hang on for a minute...we're trying to find some more stories you might like.
As the school year comes to an end, this year's tennis season is making its last appearance as well.  The tennis players finished in third place in TVL, and two juniors, Sam Brown and Philip Carlson, moved on to play-offs.  However, they lost their first round to Delhi 3-6.
"My favorite memory from this season was carrying Sam to individual sections as a doubles team," stated Philip Carlson, "We lost the first round to Delhi which was a bummer, but all in all it was a good season."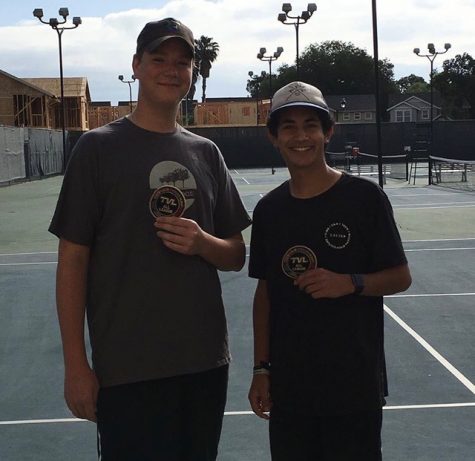 Although the two juniors lost in the first round of playoffs, they were grateful to continue the season by practicing after league and playing in one last game.  The team is now ready to move forward and prepare for next year's season.
"I was more motivated this season because I got to play a lot more than  I did last year," stated Sam Brown, "I am excited to play a new team in our league next year and see how good they will be."
This team is unique because not only are the players skilled and experienced, the tennis team shares a strong bond with one another, improving their performance and bettering their sportsmanship with each other as well as the other teams in league.
Junior, Nimrit Hayer, stated, "I am looking forward to making even more memories with this team and making more accomplishments.  I love our team and all of the funny and caring people on it, especially Philip."
Because the tennis team is only losing two seniors this year, they are prepared to develop their skills as a young team and move even farther in playoffs and even win league.
Carlson stated, "A good thing for next season is that we are losing two seniors and because we have such a young team we can progress and hopefully win league next year."