Samantha Green: Ripon High's New Campus Supervisor
Hang on for a minute...we're trying to find some more stories you might like.
This year at Ripon High, our administration and students welcomed a new addition to the support staff on campus. Samantha Green has replaced former campus supervisor, Maria Griffin. Before her new job as a supervisor, she has worked for the Ripon Unified School District for the past 13 years as a food service worker.
Green grew up in a small town right outside of Manchester, England, and graduated from high school at 16. After graduation, she started working at a Nestlé factory and made chocolate treats. While living in the United States temporarily working for Princess Cruises, Green's husband convinced her to move here full time.
Green wanted to apply for this position at Ripon High because her past occupation involved working with people everyday and she realized how much she loved it.
"I wanted this job because I've been in the kitchen for 13 years and I wanted a change […] I used to work on a cruise ship, doing entertainment, like bingo. I love people and thought, both my kids graduated from here, so once they were gone I thought that's it for now, I'm going outside in the fresh air and hang out with people," Green said.
Green's aspirations in her personal life include: her kids graduating from college, for them to be content and successful in life, and to travel around the world when she retires. In regards to her job, Green wants to make Ripon High a positive environment for everyone.
"I want everybody to get along. I like peace and happiness," Green stated.
Someone who has deeply influenced Green's life is her grandmother and she hopes to influence student lives in a positive way just as her grandmother did.
"My grandma, she was just the best person ever. She was always so easy to talk to about anything. Things you probably wouldn't tell your mom or dad, I would always tell my granny and she always had a solution. I loved her," Green said.
Green advises students to take their education seriously due to her past experiences in life.
"Since I've moved to this country, I see how important it is to go to school to get a good career…because when you look back at life when you're 40, sometimes you're sorry about what you could've done – that's how I feel about myself. I would've like to have been a nurse," Stated Green.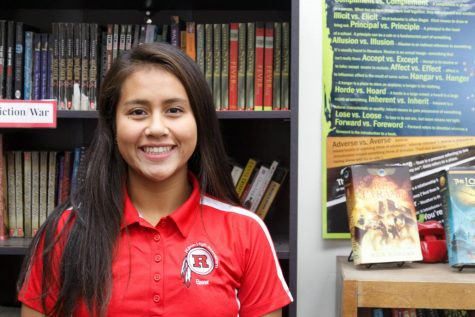 Eleanor Tran, Journalist
Eleanor is a junior at Ripon High. Her personal goals for the school year becoming as involved as possible, qualifying for CIF State swimming championships,...