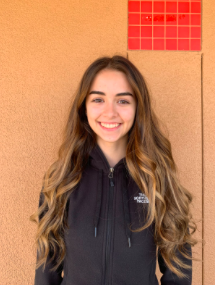 Every month, Ripon High joins together to vote for ACE of the Month. The student body, and staff, nominates for someone they believe represents being an Academic Achiever, Community Contributor, and Effective Communicator. ACE of the Month looks for students and staff who possess integrity, a strong work ethic, trustworthiness, and dependability.
This month's student ACE of the Month, a freshmen at Ripon High, is Naomi Wilbur!
"I was really excited… like really excited," Naomi exclaimed when she was told she had received the award. To Naomi, being an ACE means that, "people see that I am trying my best to be a good person and that they feel that I'm being a good person at school."
Naomi was described as a "positive and enthusiastic" person by her peers and her kindness certainly isn't going unnoticed. Naomi "cares about everyone"  and is a positive light that Ripon High is thankful to have on campus.