Girls Varsity Falls Short of Championship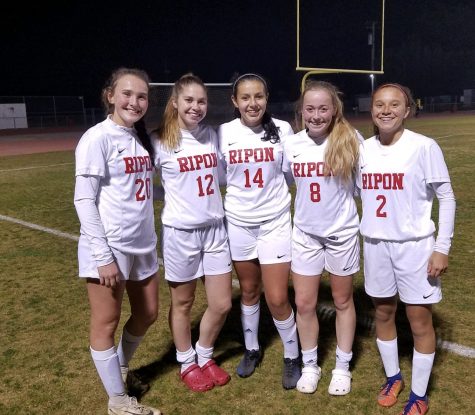 Varsity Underclassmen pose after beating Orestimba Left to Right: Ashley Pugh, Aubree Pelon, Deanna Salazar, Kierra Chavez, Deveney Dougherty
The Ripon High School Indians girls soccer team(1-3-1) took second place in the annual Ripon Christian Soccer Tournament after losing in a shootout in the championship game against Hilmar with a score of 5-6. The team took on the likes of Hilmar (8-1-4), Orestimba (3-2-2), and Escalon (3-1) throughout the tournament, beating both Orestimba and Escalon.
Varsity coach Nichole Meyer commented on the team's strong performance when asked how the team did, "The girls took second but went undefeated, the most important factor throughout the tournament was keeping composure throughout many games back to back and solid finishing."
Meyer's went on to add "Some players who stood out were Ashley Pew, Ariana Schulten, and Cindy Alvarez… Ariana was awarded the golden boot, which is given to the player with the most goals in the tournament and Cindy Alvarez made All-Tourney."
The Lady Indians played teams that they will be playing in league like Escalon and HIlmar. Which gave Ripon a good look at what they need to work on to have a successful season. Nichole Meyer added, "We needed more rehearsal, the penalty shots were something we should have worked on."
When asked what it's like being one of the few seniors on the team, four-year varsity player Megan Johnson stated, "It's nice being a senior. All the younger players look up to you. One of the most prominent leaders on the team is Maddy Pugh. She's a hard worker and a good role model for the team."
When asked what the team's strengths are Megan Johnson added, "We show a lot of potential this year and some of our strengths include our speed and skill. In the tournament we also showed that we have the strength to adapt to new formations very quickly."
Facing three teams in one weekend leaves a lot of room for surprises. Two-year varsity player, junior Sydney Holt added, "One surprise was switching to a 4-3-3 (from the usual 4-4-2) right before the championship game against Hilmar. We had never practiced that formation and just jumped right into it."
The Ripon girls soccer team will be facing off against crosstown rivals the Ripon Christian Knights on Friday, December 22. Be there and show some support for this small town rivalry.