Ripon High on the Road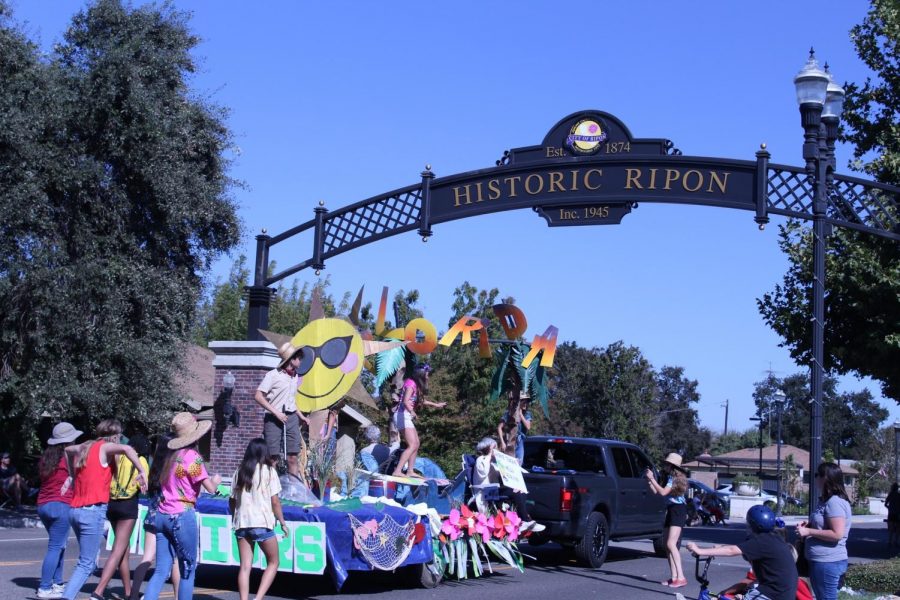 Ripon finally hit the road for the annual homecoming parade. Floats always have a theme, and this year's theme was Ripon High on a Road Trip. Then the four classes of Ripon High, clubs, elementary schools, and some others make a float to represent themselves. It is an event that many gather to see.
Ripon High was  surprised to see how many of the clubs at RHS constructed a float for this year's parade. Estudiantes Unidos, a group of people who celebrate mexican culture, was informing people of their absence in past years.
"
Last year, we didn't have one so we decided we wanted to get back into it this year."
— Senior Anina Omos
Many adults were attending the parade with their children, and have been doing so for many years. As they were viewing, everyone recounted their favorite floats. Interviewed is Julia Johnson, mother of Senior Evan Johnson and Freshman Natalie Johnson, who went to the parade before and attended again.
"My favorite float so far was the junior's float, which is Florida," Johnson said.
The elementary schools had quite impressive floats as well. These take a lot of effort, dedicated time, and time management. Maddie Stewart, a representative of Weston Elementary's student council, shared what it is like to be part of the construction of their Tennessee themed float for the Homecoming Parade.
"We started earlier this week and it has been a progression. We did the Tennessee out of cardboard and glitter tape, and we used lamination and markers. I'm really excited," says Eighth Grader Maddie Stewart.
Overall, the parade was a huge hit. Families have made it a tradition to go to the parade every year. It is also a great way to show our school and club spirit, and effectively gets everyone super pumped for the afternoon's Homecoming game against Livingston. As people like parents Karina and Rome Ilardi remembered last year, many were satisfied at how the year's Homecoming Parade was.
"I feel like the floats were better, and that there was more interaction from the whole community as well," stated the Ilardis.

Loading ...