Tuff Enuff for Powderpuff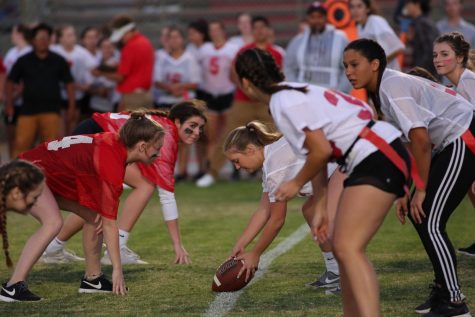 Powderpuff, the time of the year for girls to show the guys how it is done. Disregarding the sport you play or grade you are in, Ripon high students come together, with the seniors and freshmen teaming up against the juniors and sophomores. Seniors geared up to play their last game strong, while freshmen waited not knowing what to expect. 
With the junior and sophomore team breaking the winning senior legacy last year, the freshman and seniors struck back with a win of 20-0. Although it was a tough game, both sides played strong and had a fun time while doing it.
"
Not only was it competitive, but it was fun because our class made it that way. It will forever be the best 40 minutes of senior year"
— Liliana Mejia
Mejia took several attempts to make the first touchdown, but with the sophomore and junior defense fighting strong and the guidance of her amazing offense, she made the score.
Participating in school events, like powderpuff, is a way for students to get out of their comfort zone and meet new people. It gets you involved with school events and makes your high school experience memorable. 
"It's a fun experience and a great way to get involved. You get to meet new people and have fun playing against other classmates," Freshman Heaven Elisary exclaimed. The thrill and excitement that the game brings will always be remembered throughout high school.  
The tradition moves on throughout the years. Girls playing football, having their peers and parents watching them and making everlasting memories. 
"Playing powderpuff is a one time thing every year, you only get four shots at it. High school comes to an end quicker than you think." Mejia stated.