Homecoming Royalty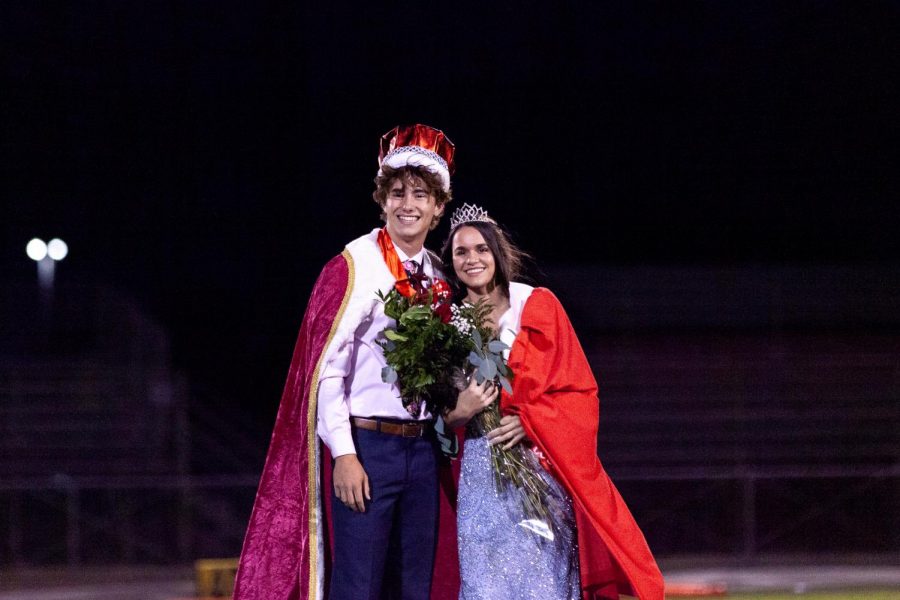 There were nine deserving and qualified homecoming court candidates at Ripon High School this 2019-2020 year. The candidates were Gianna Brocchini, Haven Fasani, Molly Ysit, Carmen Simon, Reina Sausedo, Nico Ilardi, Grant Wiebe, Troy Brogan, and Nathan Valdez.  Also a huge congratulations to Mrs. Ochoa for becoming the Grand Marshal!
  Nico Ilardi said when he won "It was an awesome feeling and I was happy to be one of the four guys."
Students take many things into consideration when voting for homecoming queen and king, like speeches and dances. Some may know right away while others take the whole week to decide. In the end there can only be one king and one queen. The winners were announced at the powderpuff game. Congrats to Nico Ilardi and Reina Sausedo for becoming Homecoming King and Queen! 
"I was ecstatic. I couldn't stop smiling and it meant so much to me to know that people thought I was deserving of this honor. I remember standing up shaking before walking to receive my crown because it felt unreal," Homecoming Queen Reina Sausedo said.
"Doing the dance at the rally was probably the best part for me," Homecoming King Nico Ilardi said.
 "The dance was really fun with Nico and the juniors really hyped us up. I also really enjoyed planning my crazy outfits for the week. I love dressing up," Sausedo said. 
Now that homecoming week is over, "I'm sad to have it be over but it was also a very stressful week so I can get some sleep now," Ilardi said.
"
I'm sad to have it be over but it was also a very stressful week so I can get some sleep now"
— Ilardi
 "I'm sad it's over because it was my last one and the experience felt like a fantasy almost. I'm excited to continue the rest of the year with spirit but I'll never forget this amazing week," Sausedo said.
Although it was a fun, but stressful week, they both said "I loved the whole experience and I wouldn't have changed anything," Sausedo said.