Ripon Rivalry Against Escalon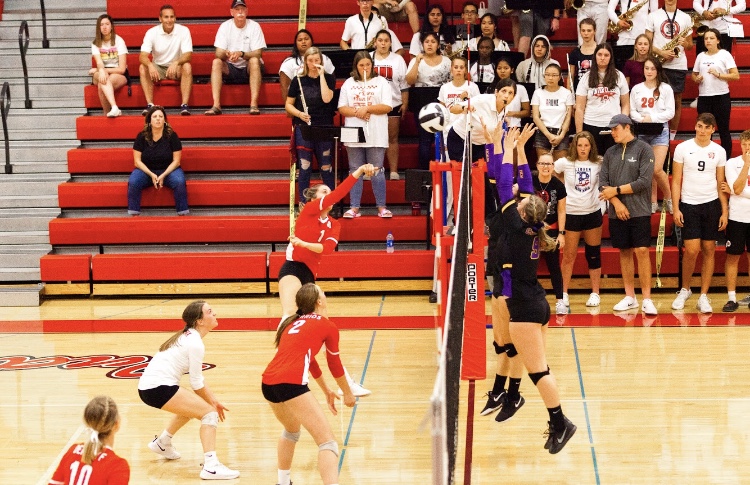 Escalon has been a huge rival when it comes to sports at Ripon High. Girl's JV and Varsity volleyball teams have worked hard this season in determination to win every game. The first Escalon game was September 23 at home. The second Escalon game was October 16 at Escalon. These two games came with emotions full of fun, excitement, and most importantly wins! 
At the first Escalon game at home, Ripon High's JV team took the win with a score of 25-15 in the first set. In the second set, they took another win with a score of 25-20. These combined totals gave a total winning score of 2-0. At the second Escalon game at Escalon, Ripon's JV team still pulled off a stunning win. In the first set the girls lost, however, redeemed themselves in the two other sets they played. The second set had a total score of 25-20 and the third set had a total of 15-12. The total of this game came up to a total of 2-1. Despite losing one set, the Lady Indians came through to take the win at cougar territory. 
" I think we did really well overall […] we worked together and we won together!" said JV player Aby Woodson. 
Ripon high's varsity volleyball team won their second game against Escalon. In the first set, they scored a total of 25-13. In the second set, they lost, however, redeemed themselves in the third set, totaling a score of 25-23. The game ran into a fourth set and the Indians took another win. The total of the game ended to be 3-1. The Lady Indians varsity team worked hard to take the win against Escalon. At the first game against Escalon, Ripon high's girl's varsity lost. They won set two with a score of 25-17 but lost the other three that were played. This loss was devastating, however, the Lady Indians proved at the second game who deserved to win. 
" I really liked the game because I got to play the whole time, which was pretty great. It was really fun playing with all the girls, especially the seniors, and seeing how important this game was for our school and our rivalry against Escalon. Our energy was all up […] everyone on the team played as one family, which is what sports are about," said Varsity player Zoe Barba.
Student sections at both the away and home games were full of red and white pride. Students were found screaming and chanting for their Indians. Even at the away game in Escalon, multiple Ripon high students were found overflowing the bleachers. Both JV and varsity volleyball teams had huge success against Escalon. Despite losses, both teams ended up smashing the Cougars. 
"
"My favorite part of the game was the last point and second of the game; even when you're off or on the court, the last point makes such a huge difference and it really made my heart race"
— Aby Woodson