Best Desserts to Make This Valentine's Day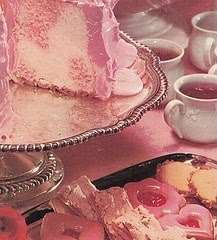 Even though holidays the past several months have been different than usual because of coronavirus, Valentine's Day still has lots of opportunities for a more normal day with your partner or friends. Everyone usually associates Valentine's Day with chocolate candies and roses, but there are many other desserts fit for the romantic holiday.
Lava cakes are a favorite of many, and Ree Drummond's recipe from Food Network is a good way to make a fast and delicious dessert if you're in a rush. With the total amount of time being only 20 minutes for 4 servings of chocolate lava cakes, it's very easy to make for the 14th. All that is needed is butter, chocolate, eggs, vanilla, flour, and some ice cream to put on top.
This next dessert takes the traditional chocolate-covered strawberries and puts a small twist on it. Lena Abraham's chocolate-covered strawberry brownies are as simple as it sounds: brownies with strawberries and extra chocolate in it. These are even easier than the last dessert with only four ingredients needed for 16 servings: brownie mix, strawberries, chocolate chips, and heavy cream. Once the steps at Delish are followed, simply refrigerating the brownies for 15 minutes will make them ready to eat.
For those who aren't the biggest fans of Valentine's Day, whether it's because of a breakup or just hating seeing all those happy couples while you're single, there's a dessert for you, too. The broken heart chocolate cake is a more time-consuming dessert to make, but it's worth it in the end. It takes around 2 and a half hours, including cooling and chilling times, and it makes 8 to 10 servings. The cake itself is basically just a heart-shaped chocolate cake with crystalized sugar as "daggers" in the heart, as well as the frosting and such.
Desserts and sweets are a big part of Valentine's Day. The whole holiday is about expressing your love for your partner, and many use treats to do that. From first-daters to married couples, hopefully, there's a dessert to enjoy on Valentine's Day.