Ripon Volleyball Takes Victory Over Enochs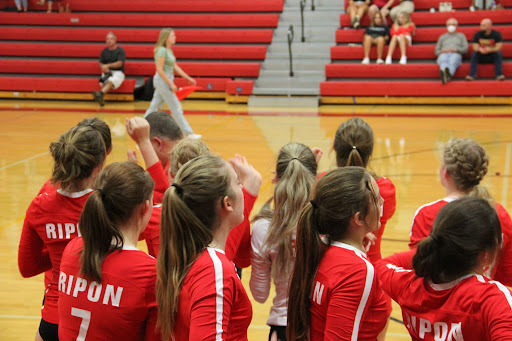 With volleyball starting up, all eyes were on Ripon's first game of the season on Sept. 2, especially with it being on their home court. Ripon exceeded expectations of the game, beating Enochs in the first three sets. The score of the last set was close, but Ripon pulled through in the end.
"
I came in with high hopes that Ripon would win in the first three sets, and that's exactly what happened."
— Saige Martin, sophomore
The first set was won in a landslide, with a score of 25-15. The final point was scored by Kaya Whittaker after Enochs failed to receive her serve. Set two was a more difficult battle, ending with a four point difference to Ripon, 25-21. Sierra Barrios aced the ball to end the game. The third and final set was neck and neck until the last point, concluding in a score of 28-26. Kaya Whittaker again served game point, and Enochs hit the ball into the net.
"I think what we did best was closing in when we needed to," said Casey Berry, Ripon assistant coach. "The third set was tight, but we knew we needed to get our job done."
After mostly dominating the first two sets, Ripon let up in the third. This caused Enochs to take an early lead. Consequently, it also forced Ripon to work harder to get out of the hole they dug themselves into. By keeping up the energy, they pulled it off, though it was intense the whole match.
"Our communication was there and we all were motivating each other to get that win," said Danika Matuska, junior. "I'm super proud of the work we put in during that game because we were able to beat a bigger school."
Enochs is a much larger school than Ripon, containing over 2,300 students. With their volleyball program being division two, no one was expecting Ripon's division five team to dominate. Ripon taking the game in the first three sets is a very big accomplishment for the small school, and they worked hard to make that happen.