Battle of the Coffeehouses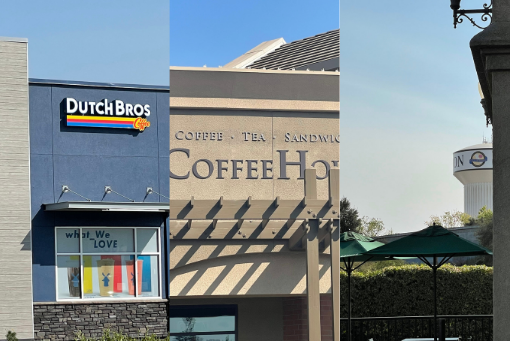 Currently, the three most popular coffee places in Ripon amongst teenagers are Ripon Coffeehouse, Starbucks, and Dutch Bros. All three businesses are more than successful, but which one is the best coffeehouse in Ripon?
A fan favorite drink at almost every coffee place is the mocha. To consistently test the taste of each coffee, a mocha was bought from each of the top three coffee places. The mocha from Starbucks was decent, but it didn't really taste like coffee. It was more of a thick hot chocolate. Dutch Bros' mocha was very sweet, so much so that drinking the smallest size would still be a challenge. The flavor itself was good, though. Ripon Coffeehouse's mocha was the easiest to drink. It wasn't too sweet, and it was the perfect consistency.
"The best coffee place in Ripon would probably be Dutch Bros because I love the environment," said Avery Mckiernan, junior. "They're so friendly and fun!"
A good atmosphere is always a crucial thing for any restaurant or store to have. Instead of closing the window while you wait for your drink to be made, the workers at Dutch Bros stay and talk to you. It's always easy to make conversation. They make it seem like they genuinely care about how your day is going, unlike some other businesses when it feels forced. Combine that with the tasty drinks, Dutch Bros is a great choice of where to get your coffee.
"When I want an iced drink or frappuccino for lunch, my go to is usually Ripon Coffeehouse," said Shayla Mckeon, freshman. "They have great service, and their drinks are amazing."
Location is very important to a business, as well, possibly more than atmosphere. While Dutch Bros has a good location for people on the road, Ripon Coffeehouse has the perfect place for high school students. Lots of people go to "Coffeehouse", as it's called, for lunch, sometimes on a daily basis. This, plus the friendly workers and wide selection of drinks and food to choose from, makes for Ripon Coffeehouse to be very popular amongst the teens of Ripon.
Though all three coffee places previously named are great places to go to, it seems that Ripon Coffeehouse would be the winner of the battle of the coffeehouses. With its nice workers, affordable prices, and convenient location, it's hard to beat. But, what do you think? Is Coffeehouse the best, or one of the other cafes?
Which coffee house is the best in Ripon?
Sorry, there was an error loading this poll.