Would You Wear This?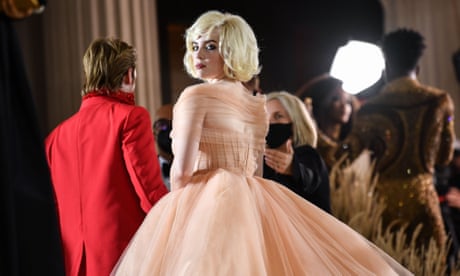 The Met Gala is one of the biggest fashion events of the year. It is a night of over-the-top outfits where celebrities and Hollywood stars go to celebrate and fundraise. The fundraiser is for a new exhibit at the Metropolitan Museum of Art's Costume Institute. Every year they have a different theme for the event. Some include punk, religion, camp, and more. The theme for 2021 was all things American fashion. This was interpreted in more ways than one at the Gala.This year the Met Gala was on September 13th at the Metropolitan Museum In New York. They had amazing hosts as well. Timothée Chalamet, Billie Eilish, Amanda Gorman, and Naomi Osaka co-chaired the event, while Tom Ford, Adam Mosseri, and Anna Wintour will serve as the honorary chairs. They all did an amazing job and were amazing hosts. This event is a magical night. 
One of the dresses this year that caused a lot of commotion was Kim Petras' horse dress. 
"Okay I appreciate that the horse dress was a statement piece and she had the confidence to rock it… that being said I was just like why? She could have worn any dress and she decided to wear a horse," said Jayden Kroutil, junior
Jayden explained this dress really well. It is impressive that Kim had the confidence and attitude to wear such a crazy outfit. On the other hand, there is a fine line between creative and crazy and I think Kim is flirting with it. The dress was creative but also way out there, maybe a little too much. " If I were going to the The Met Gala, I would wear an elegant black dress with a slick, tight, long ponytail, and all the diamonds!" Said Jaden Kroutil, junior. 
Very classic and beautiful. She would look amazing!
Another dress that was very surprising was Billie Eylish's. Her princess-like dress was beautiful but also very unexpected. The old Billie wouldn't be caught dead in that dress. Her new style is gorgeous, just very different. Billie's dress was stunning and outgoing. She wore it with confidence. A lot of people are just surprised considering how She used to dress. Other than that she blew everyone away with her amazing outfit. 
" I thought She wore the dress really well! The color was beautiful and I think it fit the style she was going for as well, " said Claire Morris, freshman
These outfits were a lot of people's favorites and Claire's summaries to them really helped explain how creative these looks were. 
This night really was one to remember. The outfits were very creative, stunning and a little bizarre but, that is exactly what The Met Gala is all about
"
My favorite outfit of the night was Emma Chamberlain's or Margret Qualley. Emma's was gorgeous and her accessories and makeup pulled the entire look together. Margaret's was super pretty and had a super elegant flair to it"
— Claire Morris
Did you watch the Met Gala?
Sorry, there was an error loading this poll.