From the sticky start of summer to a warm and cozy fall, Ripon hosts one of the most popular events of the year: the Farmers Market. Every Thursday from May to September, local business owners come together to promote their products and support the community. From freshly grown fruit to homemade goods, the Farmers Market hosts a variety of vendors for the people of Ripon to enjoy. 
One of the most common types of vendors at the Ripon Farmers Market is a produce vendor. One such business is Christine's Garden, a family owned business with a passion for organic goods. 
Noelle, the vendor, says, "We sell organically grown fruits and vegetables that we grew on our property." Noelle and her family have been selling at the Farmer's Market for three years, and just this year, they've branched out to the Oakdale Morning Market. If there's anything that's important to the people at Christine's Garden, it's eating naturally. 
"We only sell things we grew ourselves," Noelle says. "We think that eating organic and knowing where your food comes from is important." 
One of the most popular vendors at the Farmers Market can always be found under a sign that reads "Aguas Frescas." This vendor is Fancy's Cafe, which is known for their delicious freshly squeezed lemonade. Fancy's Cafe is run by Victor, who has been selling aguas frescas at the Farmers Market for almost three years. Victor sells a variety of flavors, including blueberry, raspberry, and pink lemonade. 
Victor loves the Farmers Market, and he owes this to the "lots of good food and social interaction." Victor and his coworkers love to be a part of the community through their small business and the drinks they sell. 
Products like fresh produce and homemade lemonade are commonly found at farmers markets, especially here in Ripon; however, this doesn't mean that products are limited to this. In fact, some goods can even be as unique as homemade pickles. 
Local business owner Wayne loves to "make and sell spicy pickles." Wayne owns Green Vine Canning, a business that specializes in pickling vegetables. These vegetables vary from cauliflower, brussel sprout, and carrots, but also include the classic cucumbers that tend to be associated with pickles. Of course, like Wayne says, his products come with a spicy twist. Wayne adds a variety of different spices to his pickles, creating a special kind of product distinct to Green Vine Canning. The unique flair found in Wayne's products help to set him apart not only from other pickle sellers, but also other small businesses in the community. 
Matkat Sourdough is another local business with roots in Ripon. 
Priscilla, a sourdough enthusiast, says, "Everything here is sourdough based. It's organic, it's fresh, and it's delicious." While Priscilla doesn't actually own Matkat Sourdough, she loves working with Katie, the founder. Katie's business only sells goods made from sourdough. From crispy homemade bread to soft yet crunchy cookies, Matkat Sourdough bakes their goods for the community they love. Not only is their bread beloved by their customers, their workers swear by it. 
"I believe in the bread," Priscilla says. "I only eat this bread and I love it."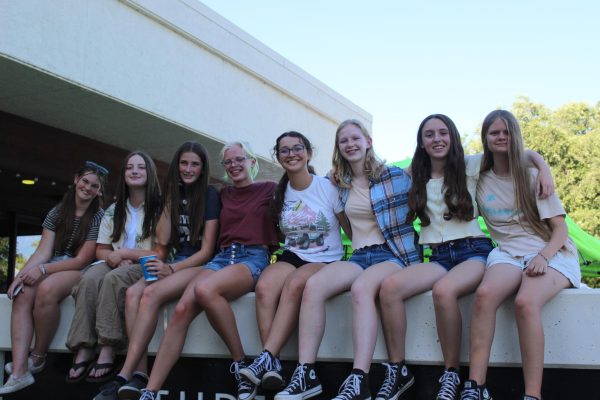 The Ripon Farmers Market is an important community event. It provides an outlet for small businesses, allowing them to thrive and grow with the community. It also allows the people there to become close and build special relationships with each other. 
"Within the market, the vendors all have a local community," Wayne says. "At other events, we may not be next to each other, but we know each other. It's almost like we're a little community inside a community."