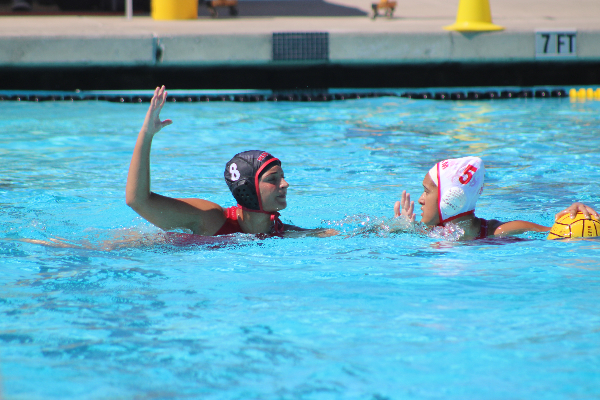 Senior Samantha Scheid has been playing water polo for seven years. On Sep. 15 and 16, the Ripon High varsity girls water polo team participated in the Sierra Shootout, placing 12th overall. Scheid has just started playing the position of center and has led the team throughout the games with her head held high as their team captain. She showed great leadership in the pool and outside the pool.
Scheid says, "Being a good teammate during a game means that even if the game is hard, you still have to respect your teammates. Instead, of making them feel guilty for making a mistake, you have to lift them up, not knock them down."
Scheid has played water polo during all four years at RHS and has seen so many different variations of how a team should play together. When handed the opportunity to be a leader she took it. Scheid does not only project a great character towards her teammates, but is a great player in the pool.
Scheid says, "During a hard game I just think of what it would feel like if we won and thinking of the team gets me motivated to not let them down."
Scheid has had to fight battles in the pool but also in the brain. Being a leader doesn't always leave you much time to focus on yourself. 
"If I started to get into my head I would stop myself and think about all the positives I have," Scheid states.
Head coach of the girls varsity team, Erik Zador said, "Samantha embodies the three C's in leading a team: Caring, Courageous, and Consistent. She is a veteran player, who has demonstrated her passion for the sport of water polo."
Scheid shows how having leadership skills in and outside the pool can really help you become the best teammate you can be. She will continue to lead the girls water polo team and help represent Ripon High in her last season.