If you like it, yell go big, red! On Sept. 22, the "Tiny Tribe" got a chance to participate in the JV's cheerleading squad. This tribe consisted of students from the community K-8th grade. They all got a " big sister" who was one of our JV and Varsity cheerleaders. 
Practices were held from Sept 18th-20th for their performance they were going to give out to the audience. They cheered the first two quarters of the JV game and performed during halftime. 
This event was a fundraiser helping our cheerleaders raise money. It will help pay with the crowd involvement, choreography routine, and help the cheerleaders get items to show spirit for the themes of the games. Ava Keast and Brooklynn Cockriel, Varsity captains were the ones to plan out this successful night. Coaches Amanda Cockriel and Tammy Paxton approved and assisted the cheerleaders for extra support.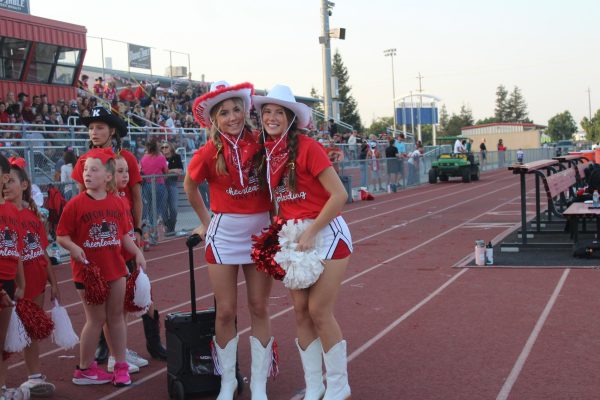 "It helped the cheer team make a lot of money for the team," Brooklynn Cockriel says. "It was also a very awesome experience for the little kids because they got to practice with the cheerleaders." 
The captains loved it even though it was a stressful time they will forever cherish this grand moment.
 "We do look forward to this. It's really fun to work with little girls, and you know they look up to all the cheerleaders," commented Ava Keast. "It's really nice having it be successful."
The parents loved the choreography. Their smiles stretched all across the bleachers. 
"It's a nice thing they do for little girls to experience and it helps them with their fundraiser," Silvia Martinez, a proud parent in the crowd says. "It was a really good day and a special moment for us parents."
Overall there was nothing but positive feedback. All the students had lots of fun and will forever be a memorable day for them.