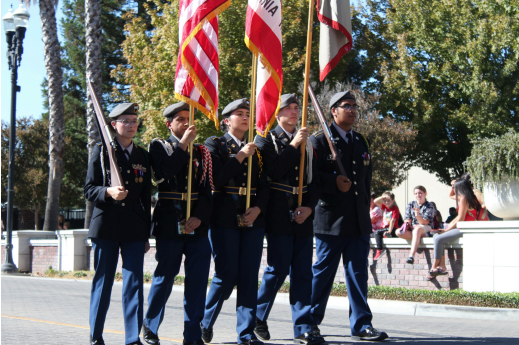 Ripon High School's JROTC program has a variety of activities and teams to participate in, including our school's color guard team. This group is composed of many dedicated students who present the national and state flags during football games and more recently, at the very front of this year's homecoming parade. Year after year, color guard has shown to be a group that exceeds in showing both commitment and pride towards our school and country.
Additionally, color guard has created a safe space for many. Kari Marshall, a sophomore at Ripon High School that is in JROTC, states that the team gives her a sense of community."It's a very friendly community, I like it a lot," Marshall says while recalling memories from her previous year being in color guard.
This group has also proved that it requires a lot of determination on behalf of its participants. When asked if color guard required teamwork, Marshall responded, "Yes. It requires a lot of coordination between all [of us]. Usually [color guard is] four people because you have to walk very slowly, so it makes it very easy to get out of step with each other."
Similarly, Preston Farley, another sophomore at Ripon High School who is also in color guard, states, "It's more mutual teamwork than anything else, you kind of just have to work together without saying anything and be on step, be on time, and you've got to get as close as you can to each other so you'll look proper."
Furthermore, Ripon High School's color guard team is overall an amazing group of people who have given many hours of their time to create a better community and to honor our school and country simultaneously. Hopefully they will remain to do so.