As the month of October continues, Girls' League has made a dress up week and sold some items for Pink Out week. This was a way for the Girls' League to honor those who are fighting Breast Cancer, as October is Breast Cancer Awareness Month. They hope people become more aware, come together and just have fun dressing up.
Breast Cancer is the most common cancer found in women other than skin cancer. Each year in the U.S about 240,000 women get breast cancer and 42,000 die from it. Like any disease and cancer it's always very dangerous and deadly. Many people believe only women get breast cancer but that's not the case men can get it too. Because of this disease, Girls' League has made up a dress up day for each day of the week. 
Monday was Monochrome Monday or the color blue. Many dressed up in one color or hue for this dress up day. Tuesday's dress up was Rhyme without Reason, Twin day or color yellow. This was a fun one RHS students dressed up as Sleeping Beauty and Call of Duty or Wild West and Under Arrest. On Wednesdays we wear pink or green, students can wear either color. Dress up like a holiday or color orange is Thursday's dress up day. Some options are to dress up as Santa for Christmas or even a leprechaun for St. Patrick's Day. The last and final dress up day is Friday and it's Pink Out, as pink is the color of Breast Cancer ribbon, or red and white can also be worn. 
Girls' League hopes everyone has fun doing this. Faith Yuen ,senior, says, "I hope this week promotes Breast Cancer awareness, but I also hope people around campus can just enjoy it and have fun."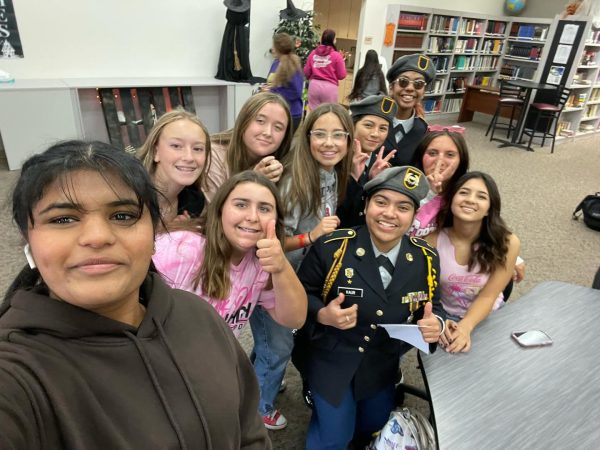 They are also selling merchandise from previous years and overstock. They are selling t-shirts, crew-necks, bandannas, hats and more. This merchandise can be worn anytime and even during Friday night's pink out game. Any funds or donations received from the gear will be donated to the Breast Cancer Research Foundation. This foundation is the highest rated organization in the country.
Many people have been affected by breast cancer or know someone who has. During this month the club and advisor, Laura Ochoa, hope to honor those who are survivors, currently fighting, and those who lost their battle. Some people here in the community have been affected by breast cancer such as Alicia Biedermann who is a survivor and in remembrance of Nina Winters. The club hopes this week will make people raise awareness of this disease and bring people together.  Be involved, dress up and purchase merchandise from Girls' League to help support the cause.
 "Come out to the Pink Out Game and support," Ochoa says.