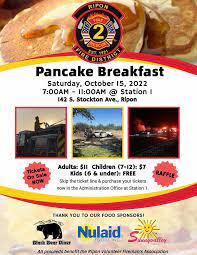 Every community needs an event to bring everyone together and enjoy some quality time with each other. That was exactly what the Ripon Fire Department did on Saturday, Oct 21, 2023, as they had a community pancake breakfast. 
The pancake breakfast was a way for the fire department to bring people together and help a good cause; the Ripon Volunteer Firemen's Association. 
Captain and Paramedic, Jeremy Abundiz stated, "It was a very successful event, just like all of the previous years. We had a great turnout, we're estimating about 700 people came through… So the community really stepped up to help us to raising those funds and make it possible."
The Ripon community really did help out the fire department last weekend as the amazing turnout will really support the Volunteer Fire Department. Those funds will also help the fire department get new equipment and help when people will need it the most. Overall, this was a good weekend for everyone as the Fire Department got funds for the Volunteer Department, while giving the community a good way to have a marvelous breakfast.