Kindness, the quality of being friendly, generous, and considerate. This is the main goal that Dude Be Nice week tries to achieve every year here at RHS. Dude Be Nice week was created my a man named Brent Camalich. He is the CEO of the company, Dude Be Nice. This whole idea of a Dude Be Nice week comes from a reflection on his life. Throughout highschool, he was seen as a jerk who treated people around him very poorly. Eventually he discovered that wasn't who he wanted to be. From then on he started spreading this message to schools of positivity, kindness, and love. Jill Mortenson was the first to discover him at one of her conferences, as soon as she heard him speak about Dude Be Nice week, she knew she had to bring it to RHS. 
Jill Mortenson, leadership teacher says," I just wanted to bring that to our school, I wanted that message, and November's nice because it's the month of giving thanks and things like that, but it's my hope that in what we do it can spread to December, January, February, or that when we think about saying something snarky, we take a step back."
This will be our 8th year of Dude Be Nice week, with many more years to come. Ripon High sets very high standards for our staff and students on campus. These standards include showing kindness and love to those around us. Every year the students are asked to vote for a staff member whom they most admire around school. One dude or dudette that shows great character, and has the ability to leave an impact on his or her students. This year we had a total of 8 dude-dudettes chosen as our 2023 Dude Be Nice recipients. Yet, there was still one teacher on campus who stood out amongst the rest.
Our conceptual physics teacher Brock Herrin has continued to show his kindness everyday. Through his undying efforts of connecting with his students on a deeper level. As a teacher, it is your job to provide a safe place for your students. Mr. Herrin has gone above and beyond with this task. Not only does he open his door to the students he teaches, but he welcomes students in other classes as well. Even though he is not a teacher to every student on campus, his door is always open to those who need it. Of course there is a lot more to say about Mr. Herrin, but let's not forget about the rest of our dude-dudettes.
Biology teacher Abigail Van Vuhren, history teacher Fidel Perez, statistics teacher Cameron Tyler, campus security Samatha Green, and custodian Loren Johnson were all chosen as dudes and dudettes in past years.  Every year, Ripon High throws a rally to show appreciation and awareness to Dude Be Nice week. As soon as Mr. Herrin was announced as our main Dude this year, he was sat down in a chair in front of the whole school, where a video was displayed in front of him. In this video, many students were interviewed and asked why exactly he deserves this award. Just as he thought it was over. All of the different clubs involved were released to hand him balloons, letters, and gift baskets. Just so he was aware of how loved and cared for he really is.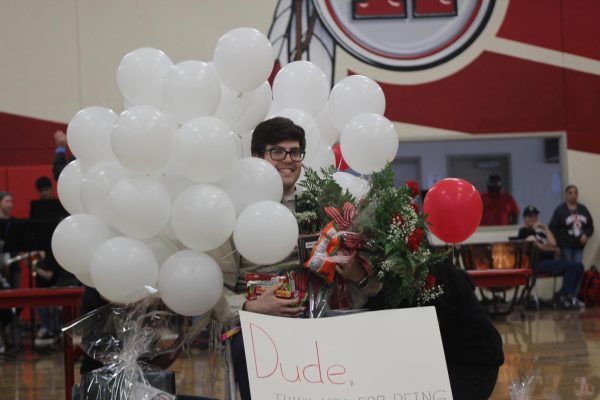 As a school, we have done an amazing job at assembling such a wonderful staff. They are constantly sharing their kindness and warmth on campus which is something that we all can appreciate. So remember, think before you speak, and always continue to spread your love and kindness to others!