Disabilities in the Public School System
Hang on for a minute...we're trying to find some more stories you might like.
According to the Federal center for disease control and prevention, the percentage for children with disabilities in public schools continues to rise. Day to day struggles for students with disabilities in the school system continues to arise and is a subject people need to take into consideration.
In public schools everywhere, there are students struggling with everyday factors of these disabilities, yet many are uninformed.
The number of students with disabilities in public schools have grown almost 9 percent in the last 20 years. And it wasn't till 1975 when the IDEA was passed that gave kids with disabilities the right to a proper education in the public school system.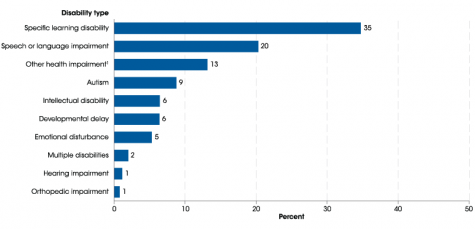 There are over 6.6 million kids in public schools today with a disability of some sort. The above graph shows the specifics of those 6.6 million kids. Since 2004 the number of kids in public schools with a specific disability has been higher than ever.
The information brought forth in a number of different tests really makes you think what is causing the rise of disabilities and what we are doing as a country, as a school district, and as individuals to help those diagnosed with a disability in public schools, to give the best education possible for any given student.