Playing for a Cause
Hang on for a minute...we're trying to find some more stories you might like.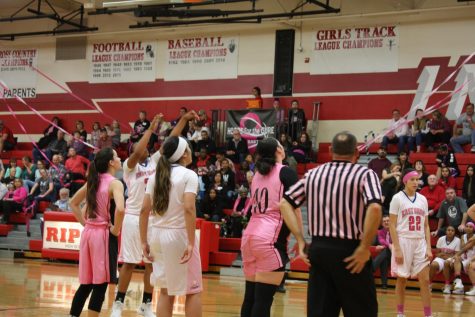 On January 27, the girls' basketball team played a close game against East Union wearing pink to support patients in their fight against cancer.
Both varsity teams had the pleasure of walking survivors of cancer out onto the court giving them the respect that each and every one of them deserved. The ages of the survivors ranged from young kids to older adults, the impact of cancer not designated to one specific age or gender.  
One of the youngest survivors was a young boy named Mason who is 11 years old. He survived a critical brain tumor and is now thriving. Tianna Sidtikun a sophomore on varsity had the privilege of walking Mason out onto the court.
"The best part of the event was being able to raise money for such a good cause, and winning against East Union because we lost to them in a tournament in the first half of the season. And we have also held this event for the past eight years and I'm really thankful that I got to be a part of it this year."  Tianna explained after showing her pride to walk the young Mason out onto the court.
The varsity game was the closest of the three games that night. Ripon winning by three points. The game itself was intense running off of fouled free throws and fast back to back points.
The ending varsity score was 54-51 Indians. The suspense of the game was heavy throughout the fourth quarter as the time ran down each team scoring back to back.
The freshman and JV games ended on a less intense note both Ripon teams winning by a landslide against East Union. The freshman ended with the score of 32-17 Ripon and JV being, 35-16 also Ripon.
The girls are looking forward to participating in this event next year and many more years to come, and the varsity are also looking forward to their next home game against the Hughson huskies on January 30, at 7:30, come support your lady Indians.