From Underdog to Top Dog
Hang on for a minute...we're trying to find some more stories you might like.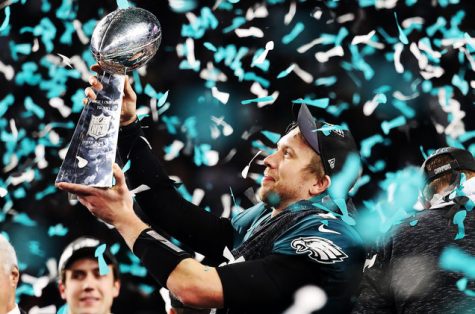 The Super Bowl is always exciting, no matter what teams are playing. Especially within the last few years, it seems like the dominating New England Patriots always seem to come out on top. But this year the game changed.
The Patriots have created a dynasty with a possible future Hall of Fame quarterback, Tom Brady, and the famous head coach, Bill Belichick. No matter what injuries or obstacles the season throws at this team, it seems as if they always end the season with the Vince Lombardi trophy.
But this season, an unexpected team started out their season with an 8 game winning streak. The Philadelphia Eagles were back. The Eagles have attended two Super Bowls, but have never won, until this year. Their star quarterback, Carson Wentz was doing amazing for the team and was a huge part in their success, but heartbreak came when Wentz tore his ACL during a game against the Los Angeles Rams, which would end his season.
Fans were heartbroken to see that one of their star players would be out for the season, and many were scared that their playoff dreams were crushed. However, second string quarterback, Nick Foles, took on Wentz's role and many were skeptical at first. Foles proved everyone wrong and ended up leading the Eagles to the Super Bowl.
"It's kind of surreal. I love coaching this football team. I love coaching those players in there. It's a tremendous feeling, quite honestly. And the thing about this team is all the adversity and negativity and everything that surrounds the team, these guys don't listen to that." said coach, Doug Pederson.
During the Super Bowl, the Eagles had the lead most of the game, but the Patriots kept it close. Nick Foles even had a great touchdown himself, where he caught the ball instead of throwing it! The crowd went crazy and Foles was playing great. It all came down to the final seconds of the game. The Eagles had a 41-33 lead over the Patriots, but Tom Brady had the ball. As time ticked down, Brady threw a Hail Mary in hopes one of his teammates would catch it so they could try and get the lead back to win it, but as the ball flew down the field and into the end zone, no Patriots player could get their hands on the ball to secure the catch.
The Eagles defeated the Patriots 41-33, taking them from being the underdogs, to the top dogs. And for Nick Foles, the quarterback that almost considered retiring from the NFL, was the Super Bowl MVP. "I wouldn't be up here if I hadn't fallen a thousand times, made mistakes. If something's going on in your life and you're struggling, embrace it, because you're growing," Foles said.