ASB Elections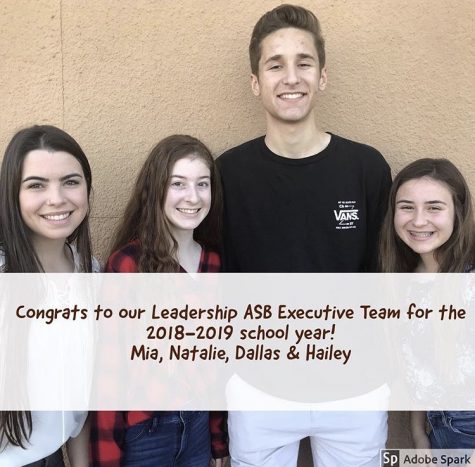 ASB Elections took place on the date of Wednesday, February 7.  The student body went to go listen to speeches during advisory which would determine the ASB team for the year.
The positions listed included President, Vice President, Head Activities Coordinator, and Executive Board Member.
Those running for the positions included Mia Benzinger, Hailey Bogetti, Natalie Betoshana, Dallas Waters, Brendan Lan, Carmen Simon, and Royce Kinsey.
Unlike the class elections, where the candidate spoke to the class to which they belong, the ASB candidates said their speech to the entire school.
Carmen Simon and Royce Kinsey took a very different approach to the speeches.  The positions they applied for, Rally Commissioner, is where two outgoing students at Ripon High try to energize the rallies and get more students into it.
To show their personalities to the school just a bit, they talked a little about themselves and why they are qualified, and there was also dancing and music involved.  It gave some insight to what rallies would be like if they are next year's rally commissioners.
"That was a really ambitious speech for her to do," said Gabriel Herrera, a freshman who is currently in the leadership program,  "and it was really brave of her to go and do that in front of everyone." 
Once the speeches were over, Ripon High students were all able to vote at lunch.  The voting was available for about 20 minutes, and results followed later.
The ASB Instagram account (@asbofriponhighschool) posted a picture with the caption "Congrats to our Leadership ASB Executive Team for the 2018-19 school year! Mia, Natalie, Dallas, and Hailey".
Simon and Kinsey's efforts proved worthwhile, as they also won the election.
The process for which the candidates went through to get to the podium was long and required a lot of effort on their part.
"First I had to turn in my application with my statement of candidacy where I had to answer questions about why I want to be in the program, and then I had an interview," said junior Dallas Waters.  "I was interviewed by [current] ASB officers."
Campaigning was also a huge part for students running for their desired position.
"I put up posters around the school asking for people to vote for me, and then I gave my speech at the rally," said Waters.
The students who are in the leadership program are optimistic for the 2018-19 school year.
Waters then closed with, "I'm looking forward to being a part of leadership.  I love being involved."