Is Vitality Bowl Vital?
Hang on for a minute...we're trying to find some more stories you might like.
Vitality Bowl sets out to accomplish its goal of providing healthy yet tasteful choices for its customers. Even as someone who isn't as satisfied with the taste of healthy meals, I can say that Vitality Bowl has exceeded its goal with its variety of fresh and delectable choices. This restaurant is highly recommended if you're looking for a quick and easy way to eat a healthy and fresh meal.
This little restaurant is very impressive with its large variety of acai bowls, paninis, and smoothies. The acai bowls include the dragon bowl, tropical bowl, and nine other bowls that range in price as well as a certain amount of calories. This place focuses more on the types ingredients they use in their bowls to give each item the right amount of nutrients, which is not the main focus at any other restaurant.
Another positive factor to Vitality Bowl is that it is generous on its prices for each acai bowl. The prices range from nine to thirteen dollars depending on the ingredients included in the bowls as well as the size. The prices are reasonable, considering the bowls are very filling. Along with the good prices and healthy choices, Vitality Bowl succeeds in pleasing its customers with a pleasant atmosphere. Each table includes a plant alo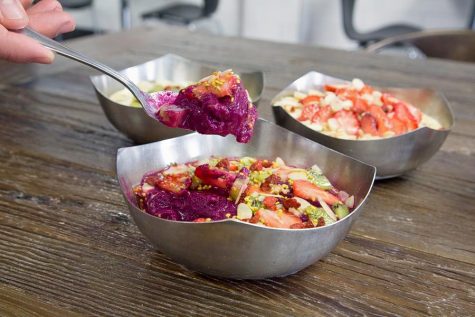 ng with its bright purple walls. The warm colors combined with the beautiful plants contribute to a comforting and welcoming atmosphere.
If you're someone who enjoys the food and the atmosphere at Panera, then you should definitely try Vitality Bowl. Both restaurants provide a variety of sandwiches specifically paninis. Also, these two locations easily create a warm and welcoming atmosphere for their customers. Although these two restaurants are similar, Vitality Bowl goes above and beyond by including the amount of calories in each meal, benefiting its customers.
Overall, Vitality Bowl is a healthy and tasteful option that provides fast customer ser
vice. It is unique with its variety of acai bowls, paninis, and smoothies. From the second you enter this restaurant, you will instantly fall in love with the wholesome and family-like atmosphere.