December Staff A.C.E. of the Month
Hang on for a minute...we're trying to find some more stories you might like.
Short for Academic Achiever, Community Contributor, and Effective Communicator, the A.C.E. of the Month is an honor awarded to one individual from both the Ripon High student body and staff. These individuals that are chosen by the students and staff possess a strong work ethic, integrity, dependability, and trustworthiness.
    Mr Vigil, a well-known Ripon High math teacher, has been nominated as the staff A.C.E. of the Month. Those who voted for him said that he is helpful, patient, understanding, and funny.
    ¨I read [the email that said I was nominated] in the middle of a class and I smiled. I felt really happy that people actually notice¨ he said joyfully.
    He believes that being a staff  A.C.E. is important because being an A.C.E. to him is about being an "all-around good person". An individual who nominated Mr. Vigil praised him for his patience and said that he makes math class educational and enjoyable.
"I do my best to help my students and I stay in my classroom most of the time because I love it here. I come here, I do my job and it's awesome that people actually see it and that they recognize it; it feels great!"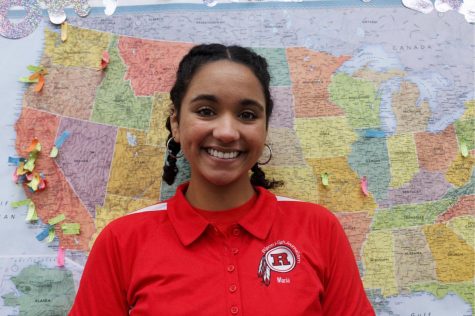 Maria Soto, Assistant Editor/Social Media and Culture Editor


Maria Soto is a junior at Ripon High.  Her personal goals for this school year are to be as involved as she can and achieve a high grade point...