Girls' Soccer Has Begun
Once again, the Ripon High varsity girls' soccer team is taking their season by the reins. Within the last two weeks the soccer team has played five total games. With all the hard work and dedication the girls has put into practice and try outs, the outstanding wins make it all worth it.
On December 3, the girls' team started their winning streak with a bang. The team won 6-0 vs, Central Catholic. Feeling confident off from that win, the Lady Indians faced Linden at home the next day. They took the 5-0 win and also traveled to Pacheco that Friday for another win, 6-0.
This season is full of a young starting roster, which is intimidating for the underclassmen. Hailey Peterson, a freshman, explained how nerve racking try outs were for her.
"I was super nervous, and didn't know if I'd make the team. I knew the girls on varsity were really good. I'm super happy I made the team however, since I've created great friendships with the players," Hailey Peterson states.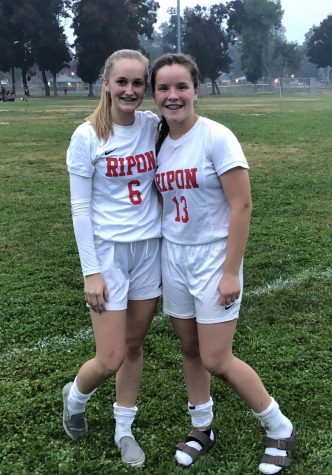 Once nerves have calmed down, the Indians are hoping to go undefeated in league but also win sections as they did last year. Of course it doesn't just come easy, a lot of hard work and dedication is needed.
"It's cool because we've been playing harder teams, but also the fact that we have a shot of getting to go to sections this year," freshman Maddy Winters mentions.
"
I'd love to go to sections, or even state this year!"
— Hailey Peterson
The freshman have a long road of high school soccer ahead of them, however for seniors it's the last year ever. For seniors like Kate Phelps, playing her last season is devastating.
"It's really sad that this is my last year ever going to play soccer, so it's like bitter-sweet. It's fun going to away games with the team and spending time with them", Phelps sadly says. "Freshman year, everyone is still learning and no one is as good as they're now. It's cool to see everyone grow up physically and mentally as a team," Phelps adds.