Homecoming Powder Puff Night
Ripon High's annual Powder Puff game was this week on Thursday, October 6, 2022. The girls practiced from September 14 to September 29 during lunchtime leading up to the game. The seniors and freshmen were one team playing against the sophomore and junior team. Tonight the seniors and freshmen were victorious in the game. Many of our football team's players were outstanding coaches to the girls. Since roles are reversed for the powder puff game and girls play football, that also means boys are the cheerleaders cheering the girls on. Some of the real cheer team's girls trained the boys while the girls practiced. They had a wonderful performance, impressing the audience. 
"Cheer was really fun it's nice to get out and do something that you normally wouldn't do with your friends, and we all had a blast doing it," said Manny Vierra, junior, that was the star flyer of the cheer performance.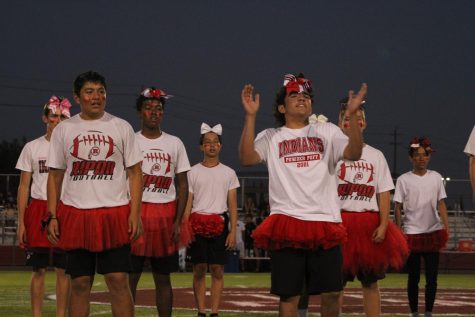 This exciting game night became even better by the minute because homecoming week holds so many surprises. During halftime, the homecoming queen and king got announced. This year's candidates were Drew Peters, Abhijeet Sidhu, Heaven Elisary, Max Davis, Mackenzie Perry, Rogelio Gonzalez, Jayden Krotil, Aiden Krupa, Maddyn Forks, and Camryn Arriola. All the candidates were walked down the field by their parents then stood on a stage and got their envelopes with a record inside. If their envelope had a record with gold on the center they were the winners. They unveiled their envelopes and the winners were Abhijeet Sidhu and Heaven Elisary. 
"I am so happy to be up here, it's an amazing feeling and I am enjoying every moment. I will never have my senior year again so it's great to be a king. The tribe is insane and this has definitely been the highlight of my senior year," said senior homecoming king, Sidhu.
As always everyone enjoyed all of the homecoming events and especially the exciting powder puff game.