Final Chapter for Yesterday's Books
The last chapter of Yesterday's Books' story has officially been written. After almost 43 years, Modesto's last independent bookstore has been permanently shut down. 
Paula Kiss, former owner of Yesterday's Books, had been working there off and on for 32 years. She says, "The main thing I was thinking about was how many people I felt like I was letting down."
As the store neared its closing, all books were free. Kiss says, "Over the years there have been so many books I read. There was always something I wanted to read. Sometimes customers would help me find things to read." From fantasy, to historical fiction, and Irish cookbooks, Yesterday's books had many options for all types of readers. Yesterday's books had used books and new books for reasonable prices. During the store's peak in popularity, it had 100,000 used books of all kinds of genres. Customers could also sell their own books and receive store credit.  
In a small town business like Yesterday's Books, many close relationships are built between the customers and the staff. Kiss states, "My very favorite memory is probably my baby shower. When I was pregnant with my son, the ladies from the store threw me a baby shower. I will definitely miss the people I worked with most."
"I don't know if I can explain what makes it so special," says Kiss. "It just felt like a really comfortable, safe place for a lot of people." Unfortunately, because of the Covid-19 crisis, like many small town businesses, Yesterday's Books never recovered. 
"I'm still cleaning out the store," says Kiss. "It's a full time job."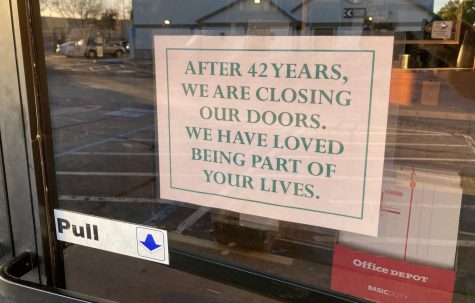 The store displayed a sign that read, "After 42 years, we are closing our doors. We have loved being part of your lives."