RHS Competes at the Water Polo National Championship
After the boys water polo team blew out the competition, two players moved on to the Boys National Championship put on by the ODP (Olympic Development Program) in Texas. Sophomores, Ryan Bell and Brody Biedermann were lucky enough to receive the honor. They both worked hard during their season and always strive to be better players. 
Biedermann says, "It was fun; there were a lot of good players, and the pool was really nice."
Before the tournament in Texas, three camps are hosted. If you're selected from those camps, you move on to another. However, only two players move on from there and attend the National Tournament. After the competition, the best players would be chosen to move on to a national selection camp, where they can be chosen to play on the national U.S. team.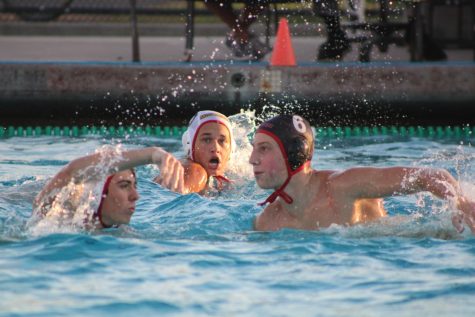 Unfortunately, many talented players attended and neither of our boys advanced. Still, they enjoyed the opportunity and fought well.
"We didn't place very high," says Bell. "But, I think the growth that we saw throughout the games was really good."
The National Championship will be hosted again next year, somewhere else in the U.S. You can look forward to seeing our water polo team do well next year and have a chance to go on to the championship again. Bell states, "We will definitely be able to go there again."