Shakespeare or Taylor Swift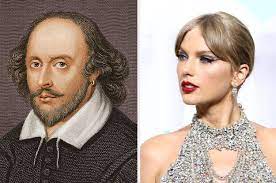 April is National Poetry month and both Shakespeare and Taylor Swift are known for their poetic writing style. If classical and poetic is something you're into, then Shakespeare is for you. But, if you're into pop and country, then you should go with Taylor Swift. Most people would rather listen to Taylor Swift. Some of her hit songs are "Bad Blood" or "All Too Well". Being a 'Swiftie' is most definitely way better than being into things created by Shakespeare that were from more than 400 years ago. So, he's completely outdated. 
There are English teachers, like Scott Sikma, who are very fond of Shakespeare and there are also many 'Swifties', like seniors Maddyn Forks and Brooke Barros. Students and staff were put to the test to see if they really knew the difference between Shakespeare and Taylor Swift. For example, sophomores Ben Svoboda and Brett Shaw, were asked if the quote, "Past the curses and cries, Beyond the terror in the nightfall," came from playwright Shakespeare or poetic Taylor Swift. Both of their answers were Taylor Swift, which was correct. 
Majority knew their knowledge when it came to Taylor Swift, so it shows that she's more well-known with her music than Shakespeare is with his sonnets and plays.