Fun Field Day
Seventh and eighth graders from our local elementary schools came to our Ripon High track and saw a glimpse on how things work here at Ripon High. They raced against other schools and tried out different events besides pole vault. Some of our talented track stars guided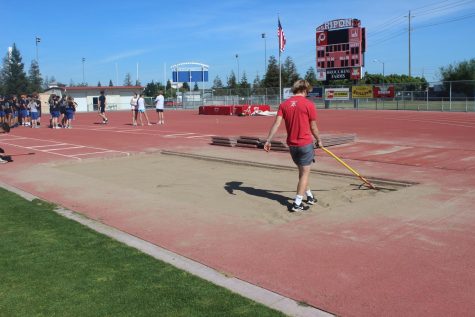 the students and instructed them when doing
each event. Seventh graders started on April 27 and eighth graders got the chance on April 28. This field day was well planned out and organized by track coaches Velasco, Taa and McPherson.
"We are hopefully going to continue on and actually add more events and make
it more competitive," Coach Velasco states about future field days, "actually keep score and kids could take a trophy to their school."
Junior Austin Wood was one of the helpers that led the discus event.
"I think it went pretty well," he states. " We got some kids interested in track and hopefully more kids will be out here when they get into highschool."
Overall this event was a success and a good opportunity for our future track members. There was nothing but positive feedback. Thank you and good job to all our staff involved with this fantastic field day!