Top 10 Christmas Movies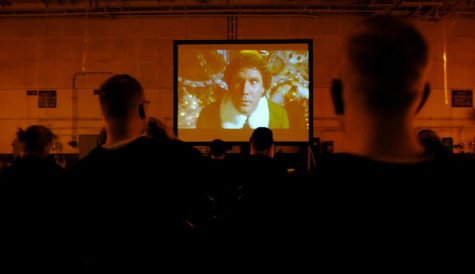 1.Elf
Elf is (mostly) everyone's favorite Christmas time movie. The movie is about a child who was accidentally brought to the North Pole until adulthood. The man, Buddy the elf (Will Ferrell), was told by Papa elf that he is not an elf and has a father in New York City, New York. Buddy then travels then travels to New York in search of his dad. After coming into contact with his father, Walter Hobbs (James Caan) they take a DNA test which proves Buddy is his son. Walter reluctantly starts to build a relationship with Buddy, a childlike man, with chaotic results. The movie is comical, cheerful, sad, loving, and just the Christmas movie for you and your family.
2.  A Christmas Story
A Christmas Story follows youngster Ralphie Parker (Peter Billingsley) who spends most of his time running from and dodging a bully and dreaming of his dream Christmas gift, a "Red Ryder air rifle." Everyone tells Ralphie he will never get the rifle because he'll "shoot his eye out." Ralphie struggles through Christmas day with his glasses and his hope intact. This movie is a comedy that shows the struggle of a kid trying to stay hopeful for getting his ideal Christmas gift.
3. Santa Clause (1-3)
All three of the Santa Clause movies are focused on Scott (Tim Allen) becoming Santa Claus and the responsibilities that followed. The movies are full of ups and downs and laughs and cries. They're all great family movies that expresses family/friend value and give you laughs.
4. Nightmare Before Christmas
The Nightmare Before Christmas is about a skeleton man, named Jack Skellingotn, who lives in Halloween Town. Jack becomes weary of doing the same old things and always being applauded for his freighting scares, as he is the pumpkin king. He ventures through a forest thinking of everything and accidentally falls into Christmas town. He then is inspired and begins planning on taking over Christmas for his own joy. The Nightmare Before Christmas is a stop motion animation film. It is joyful, humorous, and inspiring.
5. The Polar Express
The Polar Express is about a doubtful young boy who takes an extraordinary train ride to the North Pole on Christmas Eve. There he receives a gift that only believers of Santa Claus can receive. The movie is inspiring and joyful and contains an underlying message you should watch to discover.
6. How the Grinch Stole Christmas
This movie is about a Grinch (Jim Carrey) who hates Christmas and the whos who live in Whoville. The Grinch is "cuddly like a cactus and as charming as an eel." He stole Christmas from the town of Whoville in revenge of getting back for being made fun of his whole life. Cindy Lou Who (Taylor Momsen) tries to show the Grinch the joy of Christmas. The movie focuses on the young girl trying to inspire the Grinch to be less…. "Grinchy." The movie is humorous, happy, sad and moving. It's a great family movie.
7. A Christmas Carol
A Christmas Carol movie is based on the book written by Charles Dickens. The movie is about a man, Ebenezer Scrooge (Jim Carrey), who complains about the town's Christmas cheer. He is visited by three ghosts, Christmas past, present and yet to come, who show him joyful and sad moments to try and help him appreciate more in life. The movie is great for teaching kids important life lessons.
8. Charlie Brown Christmas
In this Christmas movie, Charlie Brown tries and get into the Christmas spirit by directed a Christmas play. He realizes a Christmas play can be one without a tree and when he comes back with a short, spindly, "nevergreen" tree, Charlie Brown is made fun of. Everyone makes fun of Charlie Brown's tree until the real meaning of Christmas works its magic. Charlie Brown Christmas is a great family that teaches kids the true meaning of Christmas with humor and joy.
9. Rudolf the Rednosed Reindeer
Rudolf the Rednosed Reindeer is about a reindeer who is constantly picked on by the Santa's other reindeer. On Christmas night, an evil queen brews up a nasty snowstorm and Santa wasn't able to fly his sleigh to deliver the children their gifts. Rudolf steps up and saves the day. This film is an old-school, heartwarming classic family movie.
10. It's a Wonderful Life
The movie starts with a man, George Bailey (James Stewart) wishes he was never born. He is then visited by an angel (Henry Travers) who was sent down to him to make George's wishes come true. George begins to realize how many lives he has impacted and changed and how different they would be if he was never there. The movie is a great reminder to appreciate that you are alive and to make you realize how different other people's lives would be without you in it. It's a very inspirational movie that makes you realize how it really is a wonderful life you live.