Stickers are the Windows to the Soul
       The glorious Hydroflask has had a presence at Ripon High ever since Senior Sam Brown, trendsetter, resident "it" boy, outdoorsman, photographer, videographer, and tennis player, first brought his bottle to campus. (Read more about the beginnings of the Ripon High Hydro-Fad in Deven Stokes's article "It's Just a Water Bottle!") He is credited to have been the first person at school who decorated his Hydro with stickers that reflect his interests.
  Since that first fateful day of the Hydroflask's introduction to campus, the trend has spread throughout the school. Students and faculty alike have decided to join the mission to "save the world from the lukewarm," carrying their bottles with them throughout the day and sporting fashionable stickers.  
   In a recent poll conducted via Twitter, 56% of the participants agreed that their Hydroflask stickers reflect their personality and 29% said that only some of them do. To get a better idea of what these stickers looked like and how they reflect the people at Ripon High, I did some field work and interviewed three individuals: Lindsey McDonald, Evan McKeon, and Mrs. Pendleton.
   Lindsey McDonald, an RHS senior, got her Hydro a year ago for Christmas. She got most of her stickers from Redbubble, her favorites are the sticker from the Bee Movie and the grilled cheese, because "why not?". I asked her if she thinks her stickers represent her personality and she replied, "Yeah, they are like all my favorite things."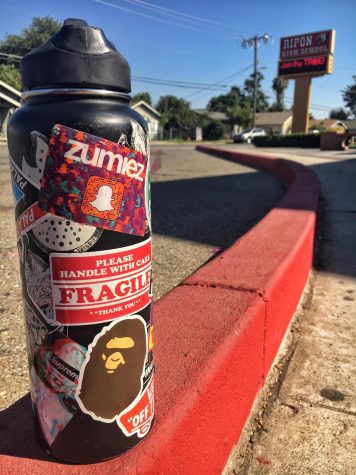 "I got my Hydroflask about a year and a half ago," freshman Evan McKeon started. "[I have about] twenty stickers on here." When I asked him where he got his stickers, McKeon said that he got them from Amazon, Santa Cruz, and skate shops that he has visited. "I have like 500 more at home." He wholeheartedly enjoys shopping and skating and said that quite a few of his stickers reflect that. "My favorites? Probably the Zumies one or the galaxy one (not pictured)."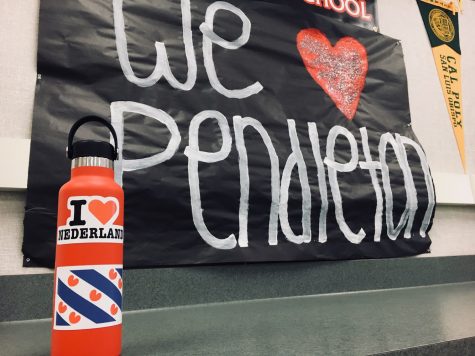 Science teacher Mrs. Pendleton has a red Hydroflask of her own, so I sat down with her in her classroom and asked her some questions about it. "We did a fundraiser for boosters and this Hydroflask was in [a basket prize]…so probably December…a year ago," Mrs. Pendleton shared. She got her stickers from Redbubble, an online company that sells products designed by independent artists. "[I got] the Indians one because it's Ripon Indians' red and white and these two [which] represent my heritage." The two stickers represent the Netherlands, Mrs. Pendleton's home country. "This one is 'I love the Netherlands' [in Dutch] and this one represents the province in the Netherlands that my dad is from, which is called Friesland (pronounced /'fris.land/)."
  The Hydroflask is so much more than a water bottle, it is a canvas for people to express themselves. From hobbies to interests, and all the way to cultural representation, Hydroflasks are there to help you share your stories. Hydroflasks are more than a fad, and the stickers are more than decorations; Hydroflask stickers are the window to the soul.