Modified Bell Schedule Due to CAASPP Testing
There will be a modified bell schedule at Ripon High this week and next week due to the juniors testing for the California Assessment of Student Performance and Progress (CAASPP) on Tuesday, March 22, and Thursday, March 24, as well as the following Tuesday, March 29, while the juniors and seniors both take the California Science Test (CAST). 
Juniors will not be testing on Monday, Wednesday, or Friday, so those will be normal, 7-period days. The only difference is that our normal block schedule on Wednesday and Thursday will not be happening as it usually does. 
Tuesday, March 29, will function as a typical Odd period block schedule day, but the difference is that juniors will be testing in the morning from 8:30am to 12:05pm. The seniors will come to school at 11:30am for their yearly Senior Assembly which will be located in the North Gym. Lunch will be at 12:05pm, where students will be welcome to come to eat. After lunch, the Odd periods will begin and they will all last 40 minutes each. Refer to the image below for Tuesday's bell schedule.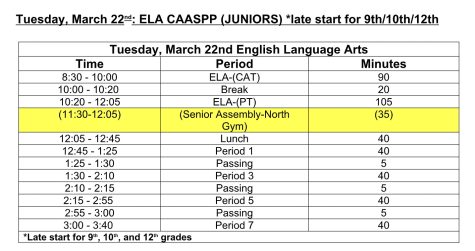 On both Tuesday and Thursday, the freshmen, sophomores, and seniors will have a late start. On Tuesday, grades 9, 10 and 12 do not have to be in their first period until 12:45pm. On Thursday, it will be a traditional Even period block day, starting after lunch time, which will begin at 12:20pm. Refer to the image below for Thursday's bell schedule.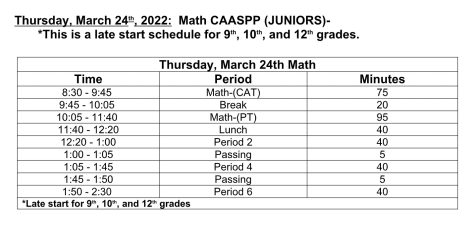 Finally, the last day that the schedule will be changing is the following Tuesday, March 29. Both the juniors and seniors will be state testing, so only the freshmen and sophomores will have a late start time. 1st period will begin at 10:50am, so 9th and 10th graders do not have to show up until then. The day will go on as a normal seventh period day, but periods will only last 30 minutes, with 7th period ending at the normal time of 3:40pm. Refer to the image below for Tuesday, March 29th's bell schedule.