Leaping to Victory in FrogTown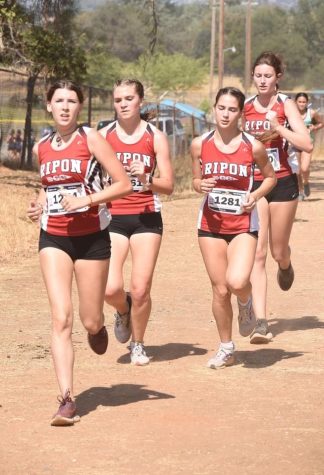 Cross Country Indians continue to win as the team took on the hill-filled course of the FrogTown Invitational on Sept. 17. The course is one of the toughest the team runs all season, and each year the team takes the trip up to Angels Camp to compete in this extravagant meet. The Invitational is divided by division with Ripon placed in the small school portion. 
JV boys took the first place title in their race, while Freshman/Sophomore girls took third. Varsity girls and boys teams took first in the meet, winning drawstring bags and a trophy for the shelf in head coach Señora McPherson's room. The varsity girls team had won the meet in 2019, then got second place in 2021, so the girls knew they had to take back their first place title. 
The JV boys had four runners in the top ten, varsity boys had three in the top ten, and varsity girls had two. Senior captains Annie Wild and Julio Pelaez took first and second in their respective races, bringing home medals. This was the first big win of the season for both teams. All teams were rewarded with bright red, new jerseys when they returned back to practice last Monday! The teams hope to keep up their hard work throughout the rest of the invitational season. 
The team will return to FrogTown for the Sub-Section meet in November. Those who qualify at that meet will move on to Sections, the state qualifying meet. 
Congratulations to all of our Ripon runners!