Cheerful Cheer Comp
Five, six, seven, eight, rhyme about cheer. 
It's that time of year for our cheerleaders, where they get to show off their skills and compete. This year cheer comp try-outs were held on Monday Sept 12 and Tuesday Sept 13. 
There were many girls excited to try-out, including seniors, juniors, sophomores and the majority being freshmen. This year's team will include a Varsity 1 and Varsity 3.1 teams. The girls will get to travel and compete in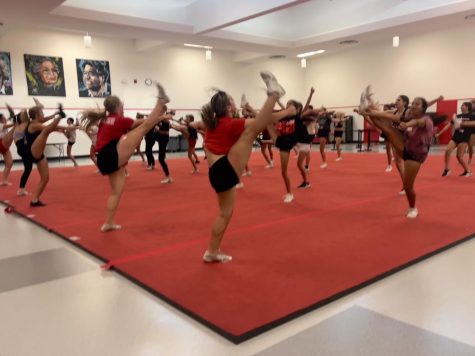 many competitions. "It requires not just a physical but a mental strength that you're trusting other people with your safety when you're flying or tumbling," said Amanda Cockriel, varsity 3.1 head cheer coach. The teams have been announced and several people have made both teams, Eclipse and Reign! All the cheerleaders seem very excited to go out and compete this season. The girls can make it as far as Nationals in Vegas but other competitions they are going to include Roseville, Anaheim, and Bakersfield. The Varsity 1 coach is Jeanette and the Varsity 3.1 coach is Amanda Cockriel. Both coaches seem so excited to get the opportunity to coach RHS cheer this year. Other than the competitive team game cheer has been doing amazing as well! Game cheer has been at all of our RHS football games and performing their halftime routines. Coming up they have they're homecoming routine which they are preparing for. Great job cheer!