Homecoming Parade 2022
Ripon kicked off the end of the celebration of Homecoming 2022 with their parade! This year's Homecoming theme was "We Got the Beat!" which involved different genres of music. Lots of floats and people participated in the parade and they were all amazing! To start off the parade, the Color Guard from JROTC walked the flags down Main Street and following behind them was the Grand Marshal, Marti Ulrich. Not too long after her was Ripon High's marching band led by their director, Geoffery Felver! This is their first time in four years marching in the parade with their uniforms.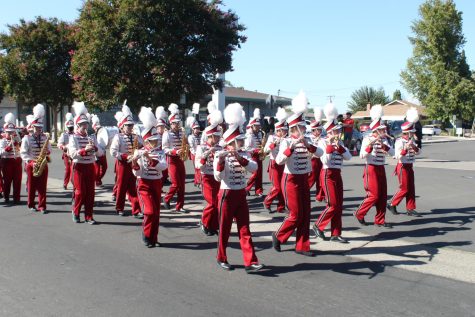 "It was a very fun experience for my first time marching in the parade with my friends," says Celeste Nunez, sophomore band member. 
Not too long after was our Ripon High Superfan, which is organized by Mrs. Pendleton and Mr. Wright, and Homecoming Royalty, Maddyn Forks and Camryn Arriola! Trailing behind them was the first float of the parade, Ripon El's that was based on the 70's. Then, you hear the song "Dancing Queen" nearby, which was coming loud from the freshman float. The float was also based on the 70's and some of the freshmen were dancing and lip syncing to music and having tons of fun! Next was more Homecoming Royalty, Jaydin Kroutil and Aiden Krupa! Along with Park View's float, representing Rock and Roll, and the sophomore's float, Treasure! It was decked out with pirates aboard their ship and it was a sight to sea. Behind was JROTC dancing to the beat of "Surf Crazy" from Teen Beach Movie and GSA carrying pride flags. Next was FFA's float that featured a huge sign saying, "Blue Jackets by Sam Smith," and FFA officers were dressed in uniform, riding the float.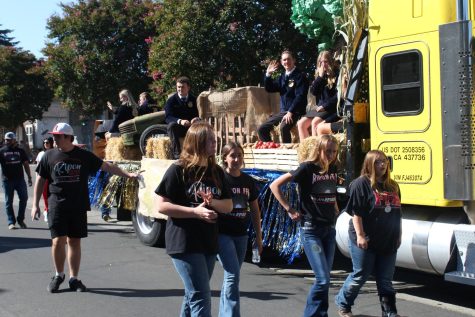 Plus, there was even more Homecoming Royalty, Mackenzie Parry and Rogelio Gonzalez, then the Weston float, representing "Thriller" by Michael Jackson, and the Asian Culture Club who dressed proudly in their cultural attire. Coming up was the Juniors' float, Party in the USA! Their float was patriotic and it was definitely a party in the USA. Then, Ripona's float in front of more Homecoming Royalty, Drew Peters and Max Davis! Next was all the football players who were fired up to play in the Homecoming football game. Close by was one of the most colorful floats, the cheerleaders' and it displayed "California Girls" by Katy Perry. Followed in suit was Colony Oak's float and Estudiantes Unidos' float, which portrayed the celebration and appreciation of Hispanic culture. Last but not least of Homecoming Royalty was King and Queen, Abhijeet "AJ" Sidhu and Heaven Elisary, who were joyful and waving to people passing by. Finally was the Senior's float, Wild Wild West! They were dressed like cowboys and cowgirls and were having fun in the wilderness!
"I enjoyed being in it and [the parade] was good. It was actually nice overall and there were people I knew who were in the crowd, " says Alejandro Gambon junior.
In the end, the Environmental Advocacy Club picked up any trash left behind to keep the community clean.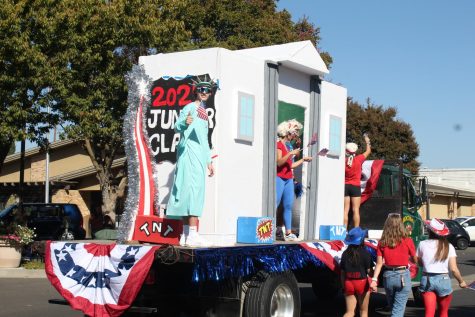 For this year's Homecoming Parade winners, Juniors took first, Freshmen took second, Seniors took third, and Sophomores took fourth. What do you think of this year's music-filled Homecoming parade?