Choir's Veterans Day Ceremony
The Ripon High choir led by Mr. Felver, Ripon High's music teacher, did a phenomenal performance in singing to honor our veterans. This is the 13th Annual Community Veterans Day Observance and it was held at the Veterans Wall and Museum on Nov. 11, 2022. Choir started with "The National Anthem" and everyone stood up in respect to the choir and the veterans. Afterwards, everyone applauded and was impressed by the choir's performance. Choir also performed the "Armed Forces Medley" to recognize all the veterans in attendance by branch of service. Many veterans stood up during this medley and appreciated being recognized for what they have done for our country. As the ceremony neared its end, the audience was asked to join the choir in singing "God Bless America".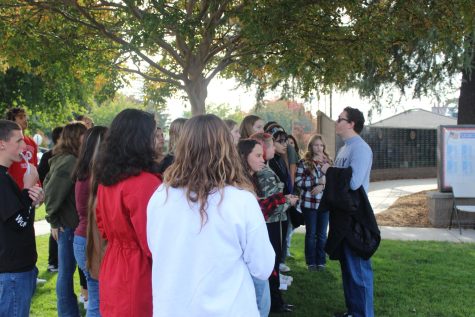 "We are supposed to stay focused on singing the music, but seeing the veterans stand during our songs made me emotional and they were so appreciative and thanked us after. It made me feel happy for them that they could see that," says Chloe Price, senior.
Choir's next performance is on Nov. 28 from six to seven in the evening at the Veterans Memorial Park for the Christmas tree lighting. Hope to see you there!